On 5 November 1946 the Electricity Supply Board (ESB) embarked on the Rural Electrification Scheme to bring electricity to rural and remote areas of Ireland.
The scheme, known as 'The Quiet Revolution' brought huge socio-economic change affecting the working, social and domestic lives of people all over Ireland. The first electricity pole was erected on 5 November 1946 at Kilsallaghan in North County Dublin with the first lights being switched on at Oldtown, also in North Dublin, in January 1947.
Fifty years after rural electrification 'The Late Late Show' looks back at this time of change with guests writer Alice Taylor and sports commentator Mícheál Ó Muircheartaigh who recall the arrival of electricity in their homes.
Alice Taylor describes life before electricity with oil lamps and candles. Mícheál Ó Muircheartaigh says the most dramatic change on domestic life was the amount of light people suddenly had in their homes. He also describes the fear that some people had of being electrocuted.
People were ultra cautious about it but they still welcomed it.
Gay Byrne introduces this segment with a display of early electrical appliances including a toaster, a kettle, a heater, as well as a pre-electric iron, and shows how they worked.
A film from the ESB Archives shows a priest turning on the power somewhere in rural Ireland and providing electricity to the area.
This episode of 'The Late Late Show' was broadcast on 1 November 1996.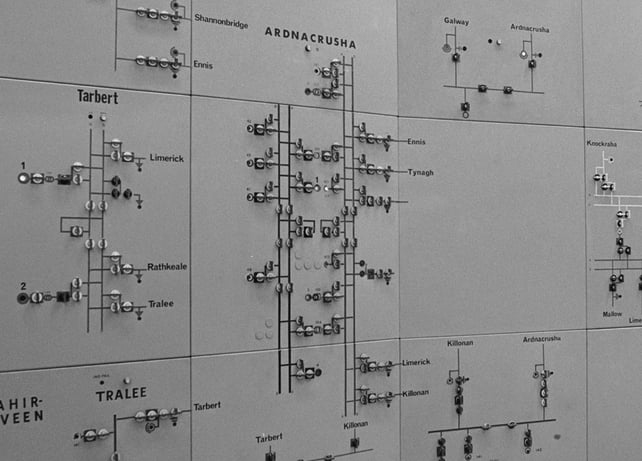 Display panel in the control room at ESB (Electricity Supply Board) HQ, Fitzwilliam St, Dublin,1972