Following the War of Independence 1919 to 1921, broadcasting proposals were placed on the desk of James J Walsh the Postmaster General of the Irish Free State, a man under great pressure with few resources at his disposal.
A debate about broadcasting was therefore not welcome in Walsh's department and as a result, the idea of a commercial, rather than a state radio service, began to emerge.
The Irish writer, Sinn Féin activist and independent parliamentarian Darrell Figgis proposed in the Dáil that a committee be set up to consider the idea of 'wireless broadcasting'. Figgis became a member of the committee which debated on whether the service should be run and controlled directly by the State or operated commercially by a company headed by Andrew Belton.
According to writer Richard Pine, the the Postmaster General favoured Belton's private syndicate however Figgis blew the whistle on Belton knowing him to be
A crook.
This ultimately led to his own undoing when it came to light that Figgis had accepted money from Belton for expenses, and Belton probably expected favours in return.
The newspapers got hold of the story and a huge public scandal ensued which led to Figgis' wife Millie taking her own life using a revolver given to her by Michael Collins. Figgis returned to London and also committed suicide.
His legacy was an ongoing debate about broadcasting.
In the end the committee rejected Walsh's White Paper on Wireless Broadcasting and ensured radio broadcasting was state owned and under state control. On 1 January 1926 the fledgling Irish state launched a national radio station 2RN.
Charting the development of Irish radio from before the arrival of 2RN in 1926, the documentary 'That Old Hurdy Gurdy – Radio 75 Years On' recalls 75 years of Irish Radio, mixing interviews with archive footage, music and song.
'That Old Hurdy Gurdy – Radio 75 Years On' was broadcast on 18 September 2001.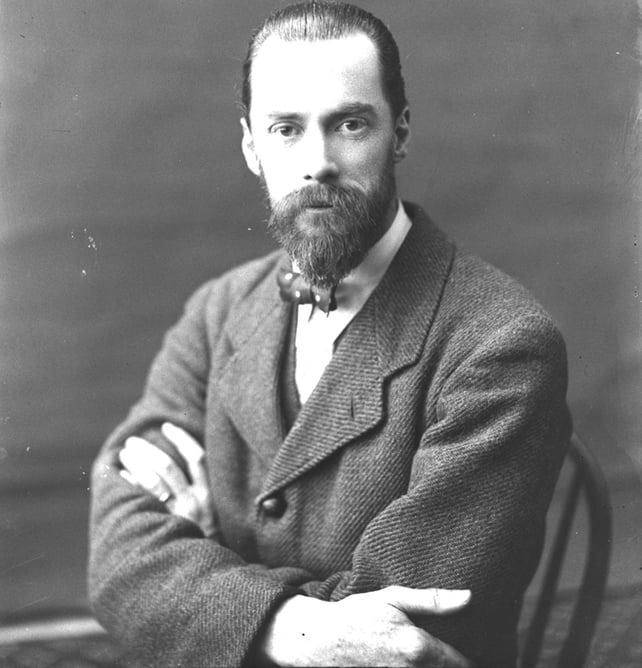 Darrell Figgis photographed by Joseph Cashman in the early 1920s.