The 'Imps' motor cycle team put on a display in Limerick.
The 'Imps' motor bicycle display team perform a variety of manoeuvres using stunt motorcycles at the Limerick Show. The team is made up of young people from disadvantaged areas of London.
The military discipline of the team gives a sense of purpose and determination, and the boys thrive on it.
Officer in Charge Ray Pratt speaks to RTÉ News about the success of the venture in equipping these young boys to become high achievers in the future. He also talks about the risks involved and the paths taken by the boys once they leave the Imps at the age of 16.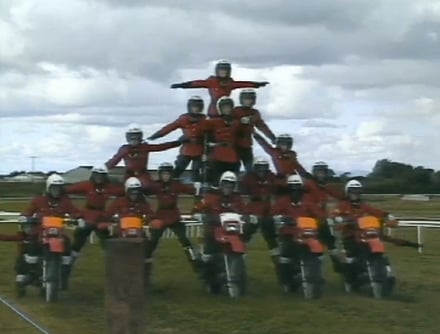 Imps Motorbike Team (1986)
The boys firstly learn basic motorcycling, then rough riding, jumps, tricks and motorcycle mechanics.
The emphasis is constantly on teamwork.
The 'Imps' is a non profit making organisation and is made up of children aged from 5 to 16.
An RTÉ News report by Michael Walsh broadcast on 20 August 1986.