A library in the heart of Dublin that houses a magnificent collection of 25,000 books and manuscripts.
Marsh's Library which was built in the back garden of St Patrick's Cathedral for Narcissus Marsh (1638-1713), Church of Ireland Archbishop of Dublin, and formerly Provost of Trinity College and was Dublin's first public library in 1707. Pat O'Mahony visited to find out more for 'Summer Express'.
Home to one of the most amazing collections of 17th and 18th century books you are likely to find anywhere in Dublin.
This perfectly preserved Renaissance building was established with all the relevant security measures of the time - locks, chains and reading cages. The distinct enclosures were constructed in the 1770s in response to thefts of books from the collection. It is one of the very few 18th century buildings left in Dublin that is still being used for its original purpose complete with actual fittings, seating and shelving.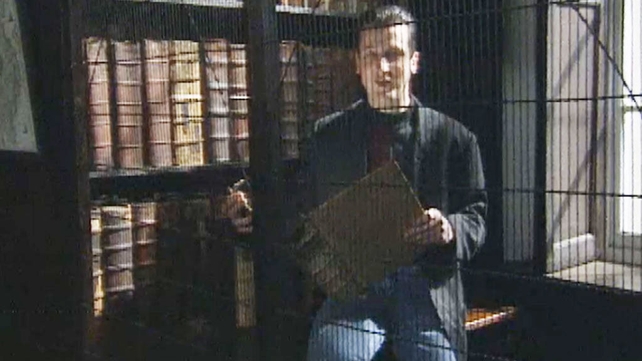 Pat O'Mahony in Marsh's Library (1991)
The collection is based on four 17th Century personal collections: Narcissus Marsh, the English Bishop Edward Stillingfleet, the first librarian or keeper of Marsh's Library Dr. Elias Bouhereau, and John Stearne, Bishop of Clogher, who donated half his collection to Marsh's Library and the other half to Trinity College. Though it could be referred to as a "continental library", it has an extremely good Irish collection and its vast range covers every subject and language.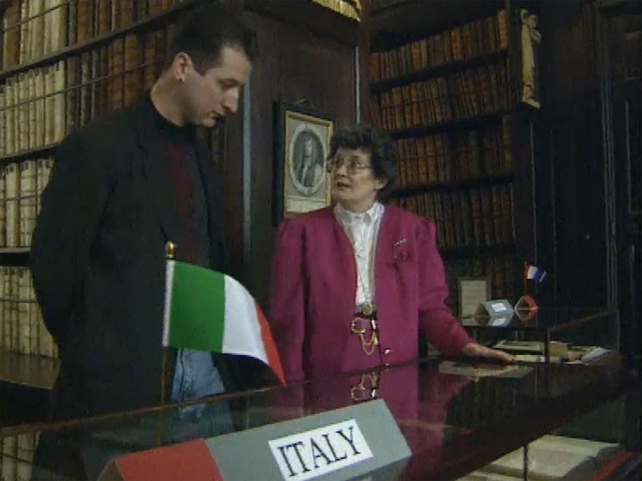 Pat O'Mahony and Muriel McCarthy (1991)
The first female keeper of Marsh's Library Muriel McCarthy shows Pat O'Mahony some of the library's treasures. As part of Dublin's European City of Culture a special exhibition to celebrate the twelve members of the European Union is on display.
This report was included in an episode of 'Summer Express' broadcast on 14 May 1991. The reporter is Pat O'Mahony.