The Labour party mark May Day with a ceremony at Kilmainham Gaol honouring the memory of James Connolly.
The Labour Party chose Kilmainham Gaol as the venue for their May Day ceremony as it was here 70 years ago that James Connolly was executed.
Attending the ceremony were Attorney General John Rogers along with members of the parliamentary Labour Party including Ministers Rory Quinn and Liam Kavanagh. Chairman of the Administrative Council Michael D Higgins was also in attendance. James Connolly's grandson Ross and great-grandson James Connolly Heron were also there.
At the ceremony Labour leader Dick Spring paid tribute to James Connolly saying that the Labour party should take inspiration from him.
In his words the objective must be to end the preying of man upon his fellow man, and we must organise for a full, free and happy life for all or for none.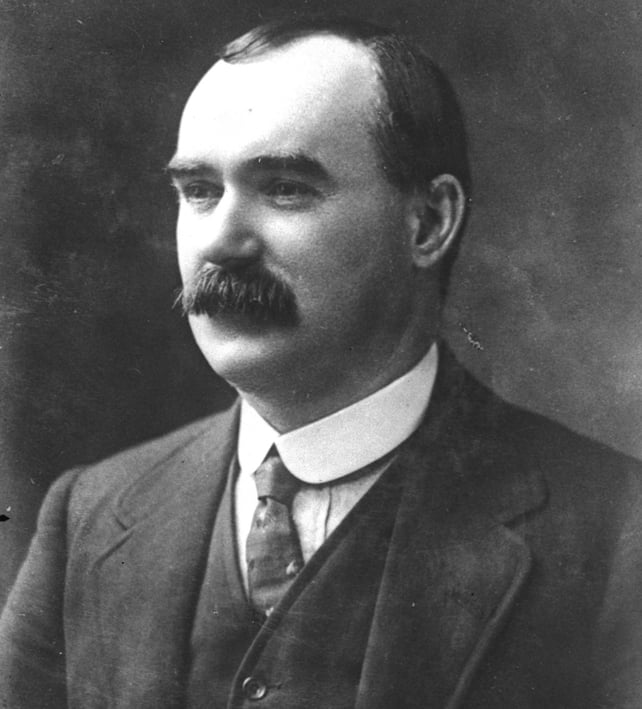 James Connolly (c.1910), Cashman Collection
To the tune of 'The Piper's Lament' Dick Spring laid a wreath on the site where James Connolly was executed in May 1916. Actor Mick Lally read the poem 'Connolly' about James Connolly's executioner written by poet Liam MacGabhann.
I swear his lips said 'Fire!' when all was still
Before my rifle spat
That cursed lead - and I was picked to kill
A man like that!

An RTÉ News report broadcast on 1 May 1986. The reporter is Michelle McCaughren.