Jennifer Keegan goes behind the scenes of RTÉ soap 'Fair City' to find out what goes into making the actors look the part of their characters.
Anne Quinn and Karen Dodson from the Fair City wardrobe department describe how they plan the costume requirements for each character on a weekly basis. Each individual may require a number of outfits depending on what is being filmed on any given day with a careful watch being kept on continuity.
Behind the scenes there are racks of clothes, each labelled with the character to which they belong.
Jennifer Keegan also chats to some of the actors on the show. Simon O'Gorman (Gerry Gaffney), Tara Quirke (Noeleen McCoy), Pat Leavy (Hannah Finnegan), and Claudia Carroll (Nicola Prendergast) describe their character's wardrobe and how it differs from their own.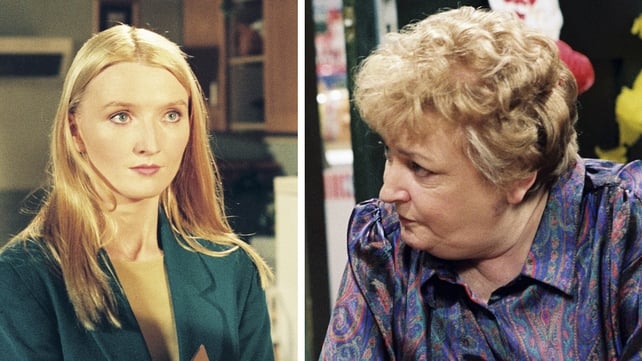 Claudia Carroll and Pat Leavy
Bairbre Murray, designer on Fair City, describes her job.
My job begins when an actor...when a character is conceived and brought into the script and a biography will be composed for them. And then the casting process takes place.
After the actor is cast, Bairbre meets them and discusses with the producer the kind of look the character should have.
We certainly use costume to flag changes in the character's circumstance.
This episode of 'Head To Toe' was broadcast on 6 February 1996. The reporter is Jennifer Keegan.