The television series 'Discovery' spends time with young women training to be nurses.
How is a nurse trained? Does she ever fall in love with a patient? How does she survive in one of the most demanding vocations?
These are some of the questions that this episode of 'Discovery' tried to answer.
The cameras follow a real-life nurse Leonie Massey, a third year student in a large general hospital in Dublin, at work and study.
According to the RTÉ Guide, 22 October 1965, the Discovery team
Took a real-life nurse and watched her at study and at work, listened to her talking, followed her daily rounds of the wards, watched her carry out the most menial tasks.
This excerpt from the programme shows the nurses in training on the ward and being shown how to administer injections on a dummy patient.
This episode of Discovery was broadcast on 25 October 1965.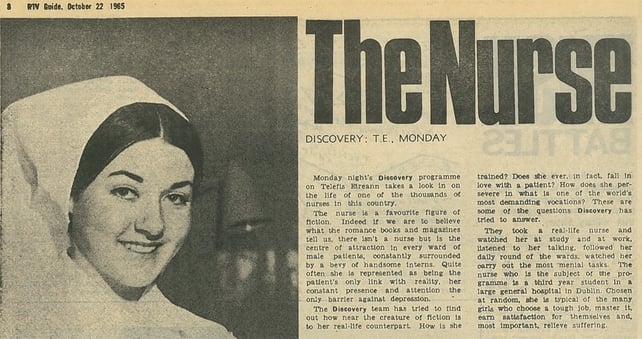 The Nurse : RTÉ Guide, 22 Oct 1965
The 'Discovery' series ran on Telifís Éireann (Now RTÉ) from 1964 to 1967. Discovery brought stories from around the country in the form of 30 minute programmes. It was billed as a programme, "touching on the many aspects of Irish life." This episode of 'Discovery' 'The Nurse' was broadcast 25 October 1965.