RTÉ is set to lose £12 million in revenue and 250 jobs if Minister Ray Burke's broadcasting bill is passed.
In 1990 RTÉ Staff congregated outside Leinster House in opposition to the Broadcasting Bill that would cap RTÉ advertising revenue. Protesters gathered outside Dáil Éireann as the bill was being debated inside. Amongst the protesters were some familiar faces from RTÉ.
The demonstration was organised by the Dublin Council of Trade Unions against proposals that would cap RTÉ's advertising revenue. Most of the 500 protesters present were from RTÉ. During the protest members of RTÉ staff and some key figures in the trade union movement spoke about what the passing of the bill would mean for RTÉ.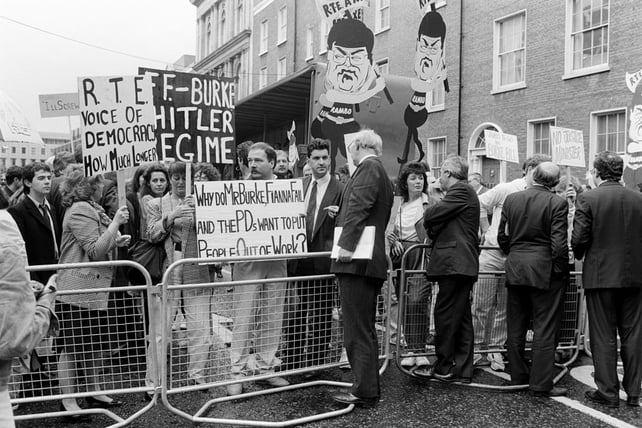 RTÉ Staff Protest Outside Leinster House (1990)
Dick Spring, leader of the Labour Party, addressed the crowd commenting
I believe that this bill is the most damaging... potentially the most damaging attack ever on RTÉ in the history of this state.
Broadcaster Pat Kenny also spoke outside the Dáil saying that the bill would mean a loss of £12 million in revenue to RTÉ and a minimum of 250 job losses.
Charlie Bird reports for RTÉ News on 20 June 1990.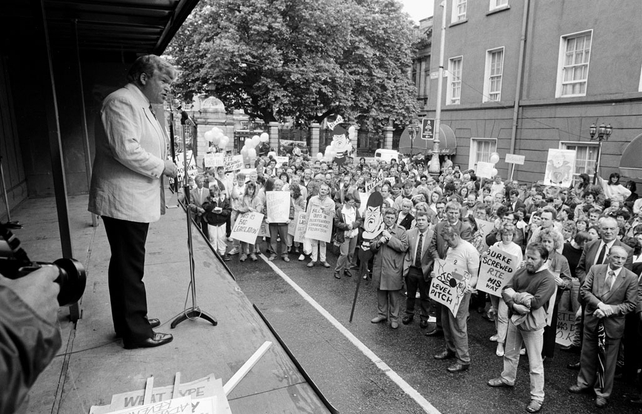 Broadcaster Derek Davis addresses the protesters outside Leinster House in Dublin.