'The Archers' was first broadcast in 1950 and is now the longest-running radio soap opera broadcasting six times a week on BBC Radio 4.
Although set in the fictional location of Ambridge, the story occasionally leaves the village. In September 1965, characters Dan and Dorris Archer, and their neighbours Fred and Betty Barratt, came to holiday in Ireland. Programme makers decided to record on location, and made use of the services of Studio 9 in Radio Éireann on Henry Street, Dublin.
Pictured here from left to right are: Monte Crick (as Dan Archer); Tom Sheehy of Bord Fáilte, who played himself in the programme; Brenda Dunrich (as Betty Barratt); Gwen Berryman (as Doris Archer); and Tommy Duggan (as Fred Barrett).
This episode of The Archers was broadcast on 10 September, 1965 and a corresponding feature appeared in the RTV Guide (now the RTÉ Guide) on 17 September, 1965.
The photograph above was taken by Roy Bedell.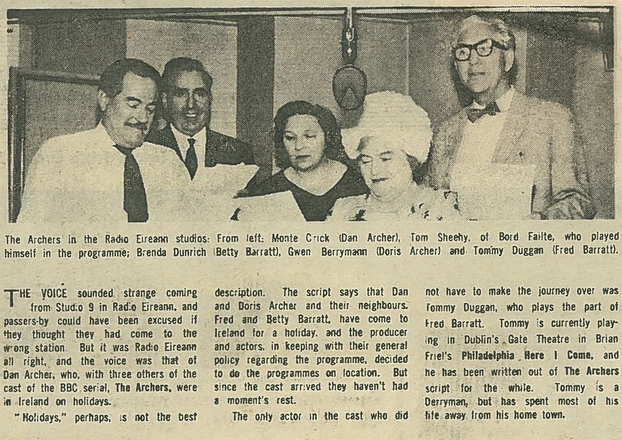 RTV Guide, 17 September, 1965, p.2