Father Niall O'Brien and other members of the 'Negros Nine' as they became known are released.
On 6 May 1983 Columban priest Father Niall O'Brien was arrested along with an Australian colleague and a number of lay workers, for the murders of Mayor Pablo Sola of Kabankalan and four of his companions. The nine captives were imprisoned for over a year on Negros Island.
The case gained much publicity in Ireland. Reporter Charlie Bird even got to interview Fr O'Brien in his prison cell for RTÉ News.
In one telephone interview from his prison cell Father O'Brien communicated "as Gaeilge" to indicate that the prison guards were listening in to the conversation.
A This Week report broadcast 13 July 1984. The reporter is David Davin-Power.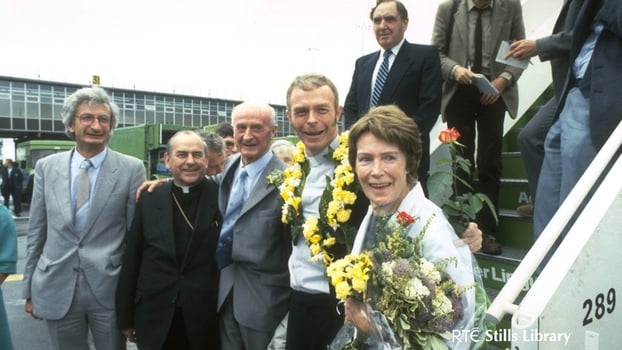 Fr Niall O'Brian with Cardinal Tomas O'Fiaich and his mother on his arrival to Ireland