The body of newborn baby boy is found near Cahersiveen in County Kerry.
The body was found abandoned on White Strand about three miles from Cahersiveen and the baby is believed to have died about three days previously.
At RTÉ News report broadcast on 14 April 1984. The newsreader is Colm Connolly.
The story that unfolded following the discovery of baby John involved further infantile deaths, allegations of murder and police corruption, and a tribunal. The Kerry Babies Tribunal raised many questions about corruption within the Garda Síochana as well as the treatment of unmarried mothers in Irish society at the time.
The Kerry Babies Tribunal was established to enquire into the events surrounding Joanne Hayes's confession to the murder of a baby found on Cahirciveen beach. A second dead baby was subsequently found on the Hayes family farm in Abbeydorney, County Kerry. All charges against Joanne Hayes and her family were dropped. The tribunal set out to enquire into the circumstances around Joanne Hayes's confession. In 2020 the Irish state formally apologised to Joanne Hayes for accusing her of the murder of the baby discovered at White Strand.
The accompanying photograph shows Tralee Courthouse where the tribunal took place.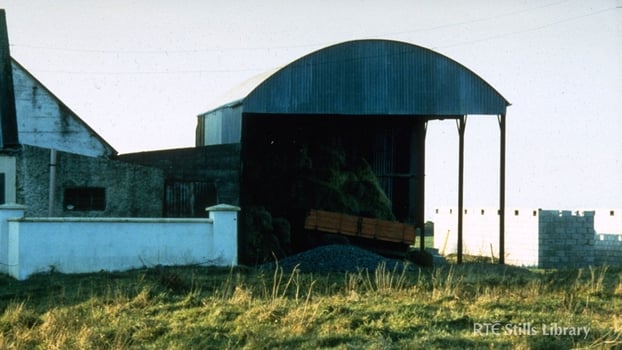 The Hayes family farm in Kerry, 1985