Billed as public service broadcasting at its best the Pirates of Penzance, one of Gilbert and Sullivan's most popular operas, was broadcast live on the Gay Byrne Radio Show on 21 March, 1994.
The story describes the misfortunes of an innocent and law abiding young man, who accidentally ends up among pirates and marriage-hungry young girls.
Studio One in the RTÉ Radio Centre was thronged with visitors who were there to perform the musical as part of the hugely popular Gay Byrne Show.
Gay Byrne, Aileen Peake and Ronan Tynan all describe the show as a success.

The photograph above shows features broadcaster Gay Byrne holding crossed swords and the chorus in the background. © RTÉ Archives 3024/014
This RTÉ News report by Michael O'Kane was broadcast on 21 March 1994.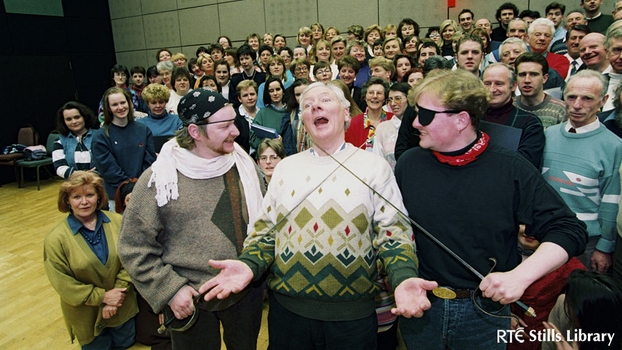 This publicity photograph for the Pirates of Penzance shows Nyle Wolfe as 'Pirate King', Gay Byrne and Des Caplis as 'Samuel'.
© RTÉ Archives 3024/012