Tuesday 26 November 1963 was a national day of mourning in Ireland for President Kennedy.
Many shops, offices, businesses, factories and schools shut down so that people could attend the special services that were held throughout the country that morning.
A requiem mass at the Pro-Cathedral in Dublin was attended by the Taoiseach, Mr. Lemass, members of the Government, the Oireachtas, clergy and diplomatic corps.
Other services in Dublin were held at St. Patrick's Cathedral and at the synagogue in Adelaide Road.
President Kennedy, was assassinated in Dallas, Texas on 22 November 1963 just five months after a four-day visit to Ireland.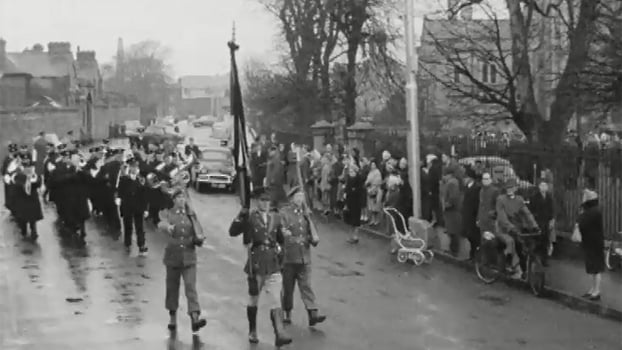 Troops at Military Church, Arbour Hill (1963)