Students at the Ursuline Convent research, prepare and broadcast programmes on their own radio station.
While planning the first radio show of the new school year the production team focus on getting the new first year students involved in school activities and making them feel welcome in their new surroundings. Two first year students, Joanne O'Neill and Michelle Mullane, talk about their initial experiences upon starting secondary school and the trials and tribulations of being a first year. Radio Ursuline has a special request for,
Amanda and Ray who are passionately in love.
This episode of 'Jo Maxi' was broadcast on 17 October 1988.
'Jo Maxi' was a youth lifestyle programme targetted at 10 to 14 year olds. The programme contained features on a broad range of topics including animals, fashion, music, books and profiles of young people voicing their views on various subjects. The original presenters on the show were Ray D'Arcy, Gery Lalor, Cliona Ní Bhuachalla, and Antoinette Dawson.

'Jo Maxi' first aired on Monday, 10 October, 1988 on RTÉ Network 2 and ran until 1994.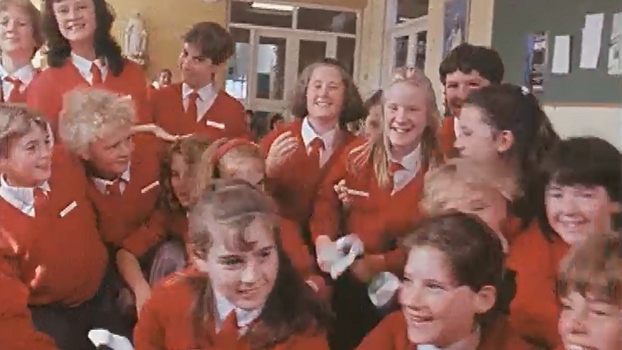 Students from Ursuline Convent, Waterford