Bloody Sunday, the day the police baton-charged the crowd who had gathered to hear union leader Big Jim Larkin speak on O'Connell St, Dublin.
It was five days into the 1913 Lockout of the Dublin workers, and the meeting had been banned by police proclamation.
Helena Moloney of the Irish Citizen Army and eyewitness Barney Conway describe the events of the day on 'The Great Lockout' on RTÉ Radio 1. Helena tells how she and other members of the Irish Citizen Army set about helping Jim Larkin get to the forbidden meeting on O'Connell St. She used her theatrical skills from her work in the Abbey Theatre to disguise Jim Larkin as an elderly clergyman. It was then decided that "dark horse" Nell Gifford would pose as his daughter. Nell was the sister of Grace Gifford, who married 1916 leader Joseph Plunkett the night before he was executed, and the sister of Muriel Gifford, wife of 1916 leader Thomas MacDonagh.
Successfully disguised, Nell and Jim "walked boldly" into the Imperial Hotel on O'Connell St, where Jim addressed the waiting crowd from a balcony upstairs. Helena says that the police were
Very angry at being circumvented like that and they advanced on the crowd and batoned right and left.
Eyewitness Barney Conway reckons the baton charge went on "for an hour or so".
'The Great Lockout' was first broadcast on 8 September 1963 and was presented by Proinsias Mac Aonghusa.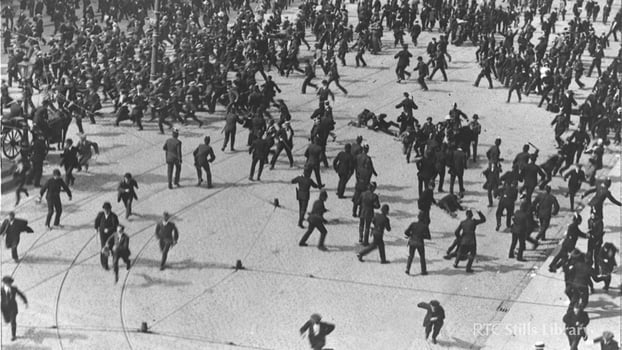 Police baton charge taking place