RTÉ Archives is sorry to hear of the death of former head of RTÉ photography, Eddie McEvoy. Eddie joined RTÉ on the 4th of December 1961 which was 3 weeks before television went on air. As a photographer for RTÉ he supplied images to television of personalities, politicians and places.
In 1963 Eddie covered the visit of President John F. Kennedy and took photographs of the motorcade on O'Connell Street, the laying of the wreath at Arbour Hill, and of President Kennedy's visit to his ancestral home in Co. Wexford.
In 2007 RTÉ Archives interviewed Eddie about his time as a photographer with RTÉ. Eddie recalls that one of the most important people he had photographed was President Éamon de Valera, having taken a series of photographs of him at Áras an Uachtaráin in 1966. Listen here to Eddie describing photographing Éamon de Valera, chatting to him "as Gaeilge" and getting a photograph of himself with the president.
Eddie McEvoy spent twelve and a half years at RTÉ before leaving to continue his career as photographer.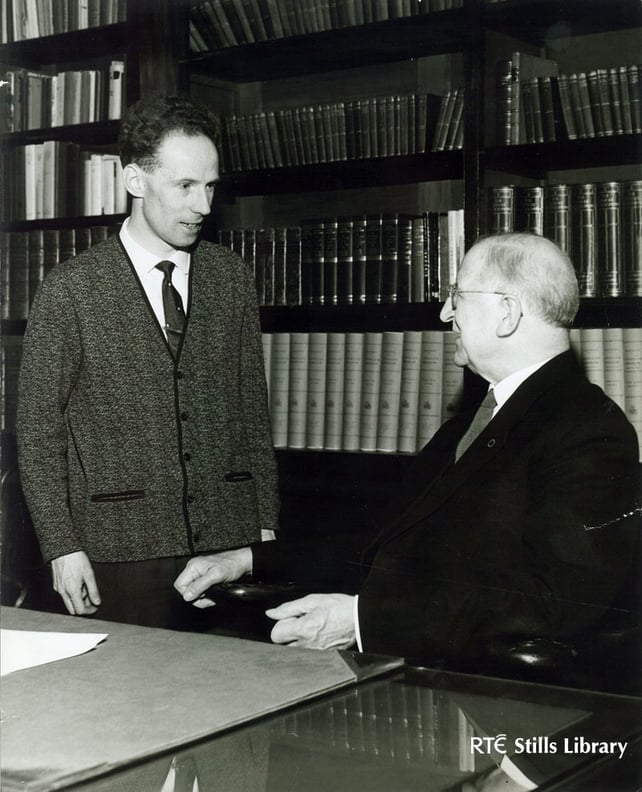 Eddie McEvoy with Éamon de Valera (1966)