Serving Our Audience
RTÉ Subtitles
RTÉ offers an unrivalled subtitling service to Irish television audiences. During peak time - 6.30pm- 11.30pm - RTÉ subtitles up to 90% of programmes on RTÉ One and up to 60% of programmes on RTÉ 2.
What is Subtitling?
Subtitling translates the spoken word into text or script, which appears at the bottom of the screen in time with the programme or film.
How can subtitled programmes be accessed?
To access subtitles on RTÉ you must have a teletext facility on your television. Subtitles are accessed through RTÉ Aertel page 888.
Tune your television to the programme you want to watch.
Press the text button on your remote control.
Enter the three digit number 888. If that programme is subtitled, the subtitles will appear immediately on screen.
To revert to RTÉ Television without sub-titles - press TV button.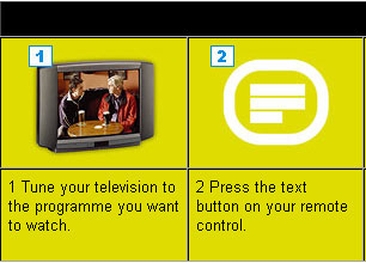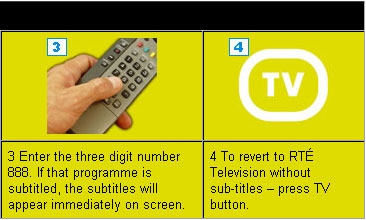 How will the Digital Switchover affect me?
For more information on Television accessibility and how the digital switchover will affect you, visit www.tvaccess.ie
Experiencing Subtitle Issues?
The next time you're watching RTÉ One or RTÉ 2 and you have subtitle problems
Text RTÉ at 087 7989128 - Information you MUST include:
What Channel is having problems? (RTÉ One or RTÉ 2)
What problem you're having
What was the date?
What time did the problem start?
What is the name of the programme?
What area you live in?
What carrier you use (Satellite/Cable)
Example of what your text message should look like:
RTE One, "Subtitles are not on screen", 4th May 2010, 6.09pm, Six One News, I live in Dublin 24 and use Sky
Contact Us
As Ireland's Public Service Broadcaster, RTÉ prides itself in constantly improving and upgrading its subtitling service. RTÉ keeps in contact with deaf and hard of hearing viewers so that their recommendations can be considered and if possible implemented.
Write to: RTÉ Subtitling,Stage 7,RTÉ, Donnybrook, Dublin 4
E-mail: subtitle@rte.ie
Cad is fotheidealú ann?
Déanann fotheidealú an chaint a aistriú chuig téacs nó script a fheictear ag bun an scáileáin, ag luas an chláir nó an scannáin.

Conas is féidir teacht ar chl ...
Related Links