Statements & Speeches
RTÉ Statement on the death of Terry Wogan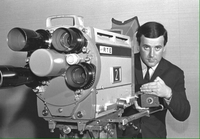 Noel Curran, Director General, RTÉ, has paid tribute to broadcaster, Terry Wogan, who has passed away aged 77.
Mr. Curran said: "Terry Wogan was a consummate broadcaster and an ambassador for Irish talent in the UK - particularly during some difficult times in Ireland's relationship with Britain. He is fondly remembered for his early years in RTE and still has many friends in the organisation. I knew him from meeting him at Eurovision and I found his on-air humour and warmth was always there in person. He has made a unique contribution to broadcasting in the UK and to the stature of Irish broadcasters internationally. Our thoughts are with his family."

Tributes were paid to Terry Wogan across RTÉ Radio 1 yesterday and today, including Sunday with Miriam O'Callaghan (Listen here) and The Ryan Tubridy Show (Listen here).
Terry Wogan's interview with Gay Byrne on The Meaning of Life was also broadcast on Sunday night on RTE One. It can be viewed until 1st March on the RTÉ Player.
Born in Limerick in 1938 Terry Wogan began his broadcasting career at RTÉ, first in radio and later as presenter of shows such as Jackpot, a popular light entertainment quiz show.
More:
http://www.rte.ie/ten/news/2016/0131/764225-tributes-paid-to/
http://www.rte.ie/ten/news/2016/0131/764282-terry-wogan-quotes/
http://www.rte.ie/ten/news/2016/0201/764445-tubridy/
ENDS
For further information, contact neil.o'gorman@rte.ie
Related Links