Statements & Speeches
RTÉ Appoints new Head of RTÉ.ie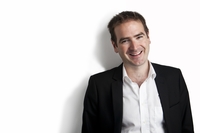 RTÉ has appointed Neil Leyden as the Head of RTÉ.ie following a public competition. Neil Leyden, formerly Senior Product Manager at Independent News & Media, will become the product owner of RTÉ.ie. He will lead the strategic roadmap and oversee performance of Ireland's number one media website.*
With over 5.5 million unique browsers a month**, RTÉ.ie is Ireland's leading digital media service and is the premier online destination for news, sport and entertainment content for people in Ireland and for Irish audiences abroad. Neil will now lead development of the next phase of RTÉ.ie's evolution.
Muirne Laffan, Managing Director, RTÉ Digital, says: "RTÉ.ie is a vital part of RTÉ's digital portfolio. It is crucial that RTÉ.ie be best-in-class, and that it demonstrates the very latest design-thinking, dynamic content creation and advanced technologies so that RTÉ can meet the needs of its digital audiences. We are excited that Neil is joining our team to drive growth and performance and to meet audience needs as they evolve. Neil has an interesting breadth of digital experience that will complement our existing skills."
Formerly a lecturer in Trinity College Dublin and DCU, as well as a board member of the BAI and the Irish Internet Association, Neil Leyden, Head of RTÉ.ie, says: "I am delighted with this opportunity to join the number one media website in Ireland and build on the fantastic work already done by the RTE.ie team. As more and more people connect online and on mobile devices, RTE.ie is increasingly playing a pivotal role in the lives of Irish people, home and abroad, in much the same way as RTÉ radio and television, and has become part of the fabric of Irish life. All my working life has been in the digital arena, so it's an honour and a privilege to join the premier national online platform."
Previously a project advisor for WorldIrish.com, and a founder of the International Digital Services Centre, Neil will join a multi-disciplinary digital team that runs RTÉ's diverse digital platforms, including RTÉ Player, GAAGO, the RTÉ News Now and RTÉjr apps, and RTÉ Archives. Almost half of adults in Ireland (47%) use at least one of RTÉ's digital services every week***.
Neil takes up the role in November.