Statements & Speeches
RTÉ Statement on the Death of Brian Friel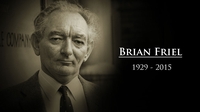 2 Oct 2015: Noel Curran, Director General, RTÉ, this afternoon paid tribute to acclaimed playwright Brian Friel, who has died aged 86.
Mr Curran said: "Brian Friel's contribution to the arts, in Ireland and beyond, was inestimable. His plays shone a penetrating light into our identity and culture, and his connection with his audience was always powerful and real. His work was frequently adapted by RTÉ Radio 1's Drama on One, and screened on RTÉ television. The man, and his work, were a constant source of discussion, analysis and review across RTÉ's arts output – the scale of his enduring legacy will undoubtedly be in evidence in the coming days."
Born in 1929 in Killyclogher, near Omagh, Mr Friel was first a school teacher before becoming a full-time writer of short stories and plays in 1960. Over the course of a remarkable career, Mr Friel penned more than 30 plays with and was perhaps best known for Dancing at Lughnasa, which won three Tony Awards in 1992, and the innovative Philadelphia, Here I Come, which premiered at the Gaiety Theatre as part of the Dublin Theatre Festival in 1964.
In 1980 Mr Friel formed the Field Day Theatre Company with Stephen Rea, its first production being Friel's own Translations. Outside of his enormous literary talent, Mr Friel received numerous awards, served for a time as a Senator, and was a Saoi of Aosdána.
Mr Friel died peacefully at his home in Greencastle, Co Donegal early this morning after a long illness, in the company of his wife Anne and daughters. RTÉ's Director-General offered RTÉ's deepest condolences to Mr Friel's family.
The film adaptation of Brian Friel's Dancing at Lughnasa will be screened following this evening's The Late Late Show on RTÉ One.
This Sunday at 8pm on RTÉ Radio 1, Drama on One will air Philadelphia, Here I Come.
On Tuesday, 6th October, RTÉ One will screen the documentary Brian Friel at 10:15pm.
Tributes were paid to Mr Friel on RTÉ Radio 1's Today with Seán O'Rourke this morning. Listen here
More: http://www.rte.ie/news/2015/1002/731868-brian-friel-obituary
ENDS
For further information, contact ceire.duggan@rte.ie