Press Releases
RTÉ marks Culture Night with free open-air concert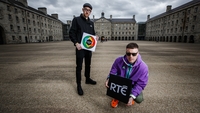 RTÉ marks Culture Night with free open-air concert at National Museum of Ireland Collins Barracks
Tickets and information at www.rte.ie/culture I Free transport by Dublin Bus
RTÉ is marking Culture Night by bringing its popular open-air concert to a new location at the National Museum of Ireland Collins Barracks on Friday 21st September. The free two-hour concert will feature an exciting mix of live music, theatre, comedy and poetry from both established and emerging Irish artists. The concert will be presented by Sean Rocks and broadcast live on RTÉ Radio 1's Arena from 8pm – 10pm and streamed live on rte.ie/culture.
Presented by RTÉ in partnership with the Department of Culture, Heritage and the Gaeltacht, Dublin City Council, The Arts Council and The National Museum of Ireland, with the support of the OPW,Culture Night with RTÉ will transform Clarke Square at the National Museum Collins Barracks asArena's Sean Rocks presents an evening of live family entertainment in the company of the RTÉ Concert Orchestra and special guests. The concert will also feature a choir of 140 members of the public from around the country.
Concert highlights include:
Villagers – Conor O'Brien will perform A trick of the light from their new album
Sebastian Barry – Award-winning author will both sing and read (A Long Long Way)
Waterford Whispers – Will perform their unique brand of news, live
Members of Horslips & Paul Muldoon – New poetry and music in a unique collaboration, specially written for this concert
Mick Flannery & Amanda Coogan – Music and performance combine, for the first time, to create a poignant reflection on the struggles of women in Ireland
Alma Harrak – Performance from the 14 year-old self-taught pianist and Syrian refugee
Mango X Mathman – The best in Irish hip hop with orchestral and choral arrangements
Claudia Boyle – ABBA classics from the talented Irish soprano, with a twist, or two
Ursula Burns – A live performance from the world's only harpist-comedian
Cór Linn – RTÉ's new youth choir will give their 'almost' first ever public performance
Sarah Crossan – Author, poet and Ireland's 'Laureatte na nÓg' will read, accompanied by the RTÉ Concert Orchestra, and introduce emerging talent, Natalya O'Flaherty
Nava – The world's only Irish/Iranian trad act will continue to explore a unique sonic landscape between the ancient musical cultures of Ireland and Persia
Doireann Ní Ghríofa – Recital from award-winning bilingual poet, in both Irish and English
Moxie – A performance – with special guests – from musicians creating a new brand of Irish music heavily influenced by Electro, Jazz, House, and Rock.
More performances. including surprise guests, will be announced soon.
In addition to this free open-air concert, from 4-8pm there will be a wide range of free ticketed live radio recordings, talks and performances throughout the National Museum of Ireland Collins Barracks.
Live Radio Recordings – RTÉ Radio 1 – Free tickets at www.rte.ie/culture
Take your place in the studio audience for live radio recordings:
Sunday Miscellany (4-5pm, Asgard Room*): Presenter Sarah Binchy will discuss all things culture with leading writers, Eileen Battersby, Niall McArdle, Sharon Hogan, Chris McHallemand Deirdre Mulrooney. Live music comes from some of Ireland's leading young musicians,Martin Tourish, Tríona Marshall, Zoe Conway, Niwel Tsumbu, and Simon Morgan.
Readings (5-5.30pm, Audio Visual Theatre): Winning short stories from the RTÉ Radio 1 Francis MacManus Short Story Competition and conversations with their authors.
Playing with Words (5.45pm – 6.45pm, Asgard Room*): An evening of song, poetry, prose, as our panel discusses how literature, poetry, plays and song have helped celebrate sporting moments and how major sporting moments have influenced Irish society and Irish literature.
Culture Cabinet (7-8pm, Asgard Room*): Four special guests open their Culture Cabinet, where they share their stories about their most treasured possessions that have a cultural significance for them.

Comedy Gold (6.30pm-7.30pm, Audio Visual Theatre): A fantastic line up of new and emerging comedy.
*Being live-streamed on rte.ie/culture.
Culture Night with RTÉ will also feature Banter talks with Jim Carroll and three female guests aboutthe role and influence of arts and culture on their lives and work:
Banter – Culture & Me, Audio Visual Theatre – Free tickets at www.rte.ie/culture
Andrea Horan (4.30pm–5pm, Audio Visual Theatre): Andrea is founder of Tropical Popical nail salon in Dublin City Centre and co-host of Keep On Repealin' podcast
Ivana Bacik (5.30pm–6pm, Audio Visual Theatre): Ivana has been a senator in Seanad Eireann for the University of Dublin since July 2007, and is also the Reid Professor of Criminal Law, Criminology and Penology at Trinity College Dublin
Emilie Pine (7.30pm–8pm, Audio Visual Theatre): Emilie is the best-selling author of Notes To Self (Tramp Press) and Associate Professor in Modern Drama at UCD
Free transport
Dublin Bus is running free buses every 20 minutes from Dublin City Centre (Aston Quay, USIT Office) to the National Museum of Ireland Collins Barracks (Route C) from 6-11pm. For more on free transport, visit www.culturenight.ie/transport.
RTÉ at the National Concert Hall; Introducing Cór Linn
Culture Night with RTÉ will also be at the National Concert Hall, where RTÉ Cór na nÓg and the newly formed youth choir, RTÉ Cór Linn will perform on the steps of the John Field Room (from 6-6.20pm). In the main auditorium, from 7-9pm, the RTÉ National Symphony Orchestra with Principal Guest Conductor Nathalie Stutzmann and soloists will perform Rossini's William Tell Overture, Mozart's Sonfonia Concertante for Violin, Viola and Orchestra and Dvorák's Symphony No.7. If you can't make the concert, Paul Herriott presents the concert live on RTÉ lyric fm's The Lyric Concert from 7.30pm.
Visitors of all ages are welcome at RTÉ's flagship Culture Night event at the National Museum of Ireland Collins Barracks. If you can't make it, why not experience this Culture Night special withArena on RTÉ Radio 1, broadcasting live from 7-10pm. The first hour of Arena, from 7pm – 8pm, will be dedicated to Culture Night highlights from all around the country. Or, you can enjoy the Culture Night with RTÉ online and on mobile. For more see www.rte.ie/culture.
FOLLOW US via @rte on twitter and on rte.ie/culture
LISTEN Arena, RTÉ Radio 1, 7-10pm | The Lyric Concert, RTÉ lyric fm, 7.30pm
CATCH UP www.rte.ie/player | www.rte.ie/radio
VISIT www.culturenight.ie | rte.ie/culture