Press Releases
RTÉ Referendum 2018 Results Coverage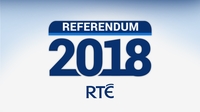 RTÉ will provide extensive coverage of the results of the Referendum to repeal the Eighth Amendment across television, radio, mobile and online on Saturday, 26 May 2018.
RTÉ, in association with a number of Irish Universities, has commissioned independent research company Behaviour & Attitudes to undertake a comprehensive exit poll, interviewing 3,000 people across Ireland immediately after they have voted on Friday 25 May. The overall YES / NO exit poll result will be announced on Friday night's The Late Late Show by RTÉ's David McCullagh and published simultaneously on RTÉ.ie. Further results and breakdown of demographics and sentiments of voting behavior will be released simultaneously onRTE.ie and RTÉ Radio 1's Morning Ireland from 8.00 am on Saturday.
Online and mobile coverage will run on rte.ie/news, the RTÉ News Now app and RTÉ Player from the opening of boxes right through to the completion of every count and the final declaration. Throughout the day, wherever you are, you can follow the results via the RTÉ News Now app. RTÉ.ie will run a live tracker/blog covering every detail as the count unfolds with the latest results, analysis, tweets and opinions on Referendum 2018.
On Referendum Count Day, RTÉ Radio 1's coverage will begin withMorning Ireland at 8.00am presented by Rachael English and Audrey Carville, and continue through the day with discussion, debate and analysis on an extended Marian Finucane and Saturday with Cormac Ó hEadhra programmes. RTÉ Radio 1 reporters will update programmes with the latest tallies and constituency results throughout the day, while Philip Boucher-Hayes will analyse the national picture from Dublin Castle, where the final result will be declared. A This Week referendum special presented by Aine Lawlor will round-off RTÉ Radio 1's referendum coverage between 5.00-6.00pm.
From 9.00am through to 7.00pm, RTÉ One will provide comprehensive referendum results coverage, analysis and discussion, with updates from count centers across the country. Referendum 2018 coverage will be anchored by Bryan Dobson in RTÉ studios, and Miriam O'Callaghan live from Dublin Castle. David McCullagh will be presenting all the findings from the RTÉ exit poll, Claire Byrne will be live from Cork City Hall, Keelin Shanley will be looking at the facts and figures as the results come in and Caitriona Perry will be live from Roscommon – Galwayconstituency count centre. Coverage on RTÉ One will also incorporate an extended One O'clock News programme, a special Nuacht RTÉ le TG4 bulletins, News with Signing and Weather updates throughout the afternoon.
The RTÉ Six One News will be extended to include the latest updates on the Referendum results from 6.01pm-7.00pm while the RTÉ Nine O'Clock News will feature results along with the main national news stories of the day.
RTÉ Raidió na Gaeltachta will brings listeners results from reporters in count centres across the country, with analysis by a panel of experts in studio, on the programme Lá an Chomhairimh from 10.00am, presented by Máirín Ní Ghadhra. Panelists will include Barrister Ben Ó Floinn, journalists Cathal Mac Coille and Áine Ní Chiaráin, law lecturer Ursula Ní Chonghóile and Dr Éidín Ní Shé.
The @rtenews twitter account, currently the largest single news twitter account in the country with over 700,000 followers, will be live tweeting the results and updates while subscribers will also be kept up to date with key moments via the Push Notifications on the RTÉ News Now app. Updates will also run on @rtepolitics @rteradio1 @rternag and @rte.
RTÉ's News Now channel will provide rolling coverage available worldwide (via the Live button in the App and RTÉ Player) throughout the day with live breaking feeds of declarations in addition to referendum programming and news bulletins.