Press Releases
RTÉ leads international New York Radio Awards shortlist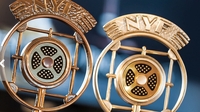 The New York Festivals International Radio Programme Awards have announced the 2018 finalists. RTÉ lead the nominees, with 38. The Canadian Broadcasting Corporation followed, with 25 entries, while the BBC saw 15 nominations. To view the entire list of 2018's Radio Awards Finalists, please visit here.
With nominations in documentary, drama, music, the list of international broadcasters in contention for the final awards is exceptional by any measure, as is RTÉ's leader position among major international broadcasters.
NYF's Grand Jury selected 353 Finalists from entries submitted from 31 countries worldwide. Entries were judged by the 2018 Grand Jury on production values, organisation, presentation of information, creativity and use of the medium. All entries achieving Finalist status proceed to the trophy round.
"From audio books, podcasts, and sound art to documentaries, drama, and breaking news," said Rose Anderson, VP/Executive Director of New York Festivals Radio Program Awards. "The international Grand Jury members once again selected Finalists whose content exhibited creativity and innovation."