Press Releases
RTÉ Publishes Review of Orchestras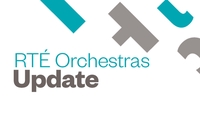 RTÉ has today published a report following an independent review of its provision of orchestral services. The independent report, entitled 'Ensuring a sustainable future for RTÉ's orchestras' was carried out by former Director of BBC Radio and of BBC News, Helen Boaden, with the support of strategy consulting firm, Mediatique.
This extensive and in-depth independent review looked at the best way of providing high-quality and sustainable orchestral services to the Irish public, and covered both the RTÉ National Symphony Orchestra (RTÉ NSO) and the RTÉ Concert Orchestra (RTÉ CO).
The report contains a number of findings:
RTÉ's orchestras are the only full-time, full-size professional orchestras in the Ireland, accounting for more than 80% of total income in the classical music sector;

There is strong support among Irish audiences for the existence of RTÉ's orchestras, and for public funding to ensure their provision; widespread support for the retention of both orchestras also exists across the orchestral music sector and within Government;

Extensive international benchmarking reveals the degree to which orchestral music is publicly supported in other countries – often via direct national, regional and local Government funding; in Ireland, by contrast, orchestral music is dependent on just one funding source: the TV Licence fee;

RTÉ saw a reduction in income of 24% between 2007 and 2016 and it continues to face very significant financial challenges; there is broad acknowledgment of these challenges;

During this period, RTÉ's orchestras have been relatively protected (income has declined by 11% in that period), but now have significant vacancies and have been obliged to reduce commitments to touring and educational roles. Morale has suffered as a result;

Given the importance of the RTÉ orchestras within the wider cultural life of the nation, the issues raised in the review affect not just RTÉ, but the sector as a whole.

It is hard to see how RTÉ can fund even the current level of provision, let alone cover the increase to budgets that would be required for the orchestras to return to full strength and undertake touring and education programmes.
The report makes a number of recommendations:
That neither of RTÉ's two orchestras should be closed, rather, they should be both be brought up to full strength;

That the RTÉ National Symphony Orchestra should be established as a National Cultural Institution in its own right (or as part of the National Concert Hall) and funded by Government;

That both the RTÉ National Symphony Orchestra and the RTÉ Concert Orchestra should return to historical levels of staffing and activity – including touring and educational programmes;

That RTÉ should contribute funding to a newly independent National Symphony Orchestra in return for the right to broadcast its performances;

That the RTÉ Concert Orchestra should remain within RTÉ and become a key means of RTÉ providing support of orchestral music – live and broadcast on television, radio and online. That this is fully consistent with its role as a public service media provider;

That this solution is consistent with the Government's own policies around promoting cultural Ireland (including refurbishment of the National Concert Hall) and provides both orchestras with the opportunity to establish and promote a fresh cultural vision.

That this solution is also similar to a proposal first made 20 years ago, in the PIANO report and that the extensive research and interviews included in the report firmly support this outcome.

That the recommendation for the two orchestras fully reflects the importance of orchestral provision to Irish cultural life, is consistent with international best practice, resonates with the Government's own ambitions for arts and culture and delivers a sustainable funding model for the long term.
In recognition of RTÉ's statutory requirement to 'establish and maintain orchestras, choirs and other cultural performing groups', the RTÉ Board will consider the Report and Recommendations at its Board meeting later this week.
Commenting on the findings recommendations, Aodán Ó Dubhghaill, Head of RTÉ Orchestras, said: "This has been an important and valuable process and I'd like to acknowledge the work done by Helen Boaden and Mediatique in producing such a comprehensive, informed and insightful report. As I've stated previously, RTÉ's orchestras have a singular place in Irish musical heritage and have nurtured, through performance and education, generations of world class musicians. The report confirms this view while also recognising RTÉ's overall funding position as it plans for the future. These recommendations offer a solution which protects and supports both orchestras, while also recognising the balance between RTE's financial constraints and our public service role in promoting music, arts and culture. RTÉ will now give the recommendations full consideration."
Ends
Related Links