Press Releases
Céim nua den Chomhar Páirtnéireachta idir RTÉ agus TG4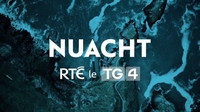 - Forfheabhsú ar chláir de chuid Nuacht, á gcur ar fáil as croílár na Gaeltachta mar is gnáth -
D'fhógair RTÉ agus TG4 inniu (Déardaoin, an 22 Márta 2018) céim nua sa chomhar páirtnéireachta idir an dá eagraíocht meán cumarsáide seirbhíse poiblí, lena ngabhann treisiú leis an tseirbhís nuachta a chuireann RTÉ ar fáil gach lá do TG4.
Mar gheall ar an bpáirtnéireacht seo, déanfar athsheoladh ar fheasacháin Nuacht RTÉ ar RTÉ One agus ar RTÉ News Now sa chaoi is go mbíonn caoi agus cuma nua orthu an tráth céanna a gcloítear leis na luachanna a fhágann gur croíchuid iad de thoradh saothair Nuacht agus Cúrsaí Reatha RTÉ. Is léiriú an branda nua Nuacht RTÉ le TG4 freisin ar an bpáirtnéireacht idir na craoltóirí ar an aer. Bíonn níos mó ná 420,000 duine ag féachaint ar chláir de chuid Nuacht ar RTÉ One nó ar TG4 gach seachtain.
I mí Aibreáin, beidh feasacháin RTÉ ag athrú go dtí an stiúideo nuachta athdheartha feabhsaithe i gceannáras TG4 i mBaile na hAbhann. Léiríodh an stiúideo nua i gCeannáras TG4, a ndearnadh infheistíocht mhór ina leith, do lucht féachana TG4 den chéad uair le gairid.
Tá seirbhísí feasacháin Nuachta trí Ghaeilge á gcur ar fáil ag RTÉ don lucht féachana ó bunaíodh an stáisiún teilifíse sa bhliain 1961. Mar chuid de shocrú fadtréimhseach le TG4, tá feasacháin nuachta á gcur ar fáil ag RTÉ don chainéal sin ó tosaíodh ag craoladh 21 bliain ó shin.
Ar na seirbhísí nuachta Gaeilge a chuireann foireann RTÉ ar fáil faoi láthair, tá cláir gach lá ar RTÉ One (5.40 i.n.), RTÉ News Now (5 i.n.) agus TG4 (7 i.n.), nuacht ar líne ar an dá láithreán gréasáin, chomh maith le tuairiscí agus ábhar eile ar RTÉ Raidió na Gaeltachta. Tá comhfhreagraithe réigiúnacha ag Nuacht in iarthar Chiarraí, i Luimneach, i nDoire Beag, Co. Dhún na nGall agus i mBéal Feirste chomh maith le Comhfhreagraí Polaitíochta i dTeach Laighean.
Dúirt Jon Williams, Stiúrthóir, Nuacht agus Cúrsaí Reatha RTÉ: "Táim thar a bheith bródúil as iriseoireacht Ghaeilge na heagraíochta – a chuireann le heagraíocht ar leith a dhéanamh de RTÉ: nuacht agus cúrsaí reatha á gcur ar fáil ar an aer agus ar líne, i nGaeilge agus i mBéarla, ó ar fud na tíre agus ar fud an domhain. Agus táim thar a bheith buíoch d'Alan agus d'fhoireann TG4 as a dtacaíocht, ní fhéadfadh aon pháirtí ní b'fhearr a bheith againn san obair seo i gcomhar".
Is ábhar mórtais an oidhreacht fhada atá ag baint le Nuacht RTÉ. Sa bhliain 2009, dúirt Cathal Goan, Príomh-Stiúrthóir RTÉ ag an am, gurbh shuntasach an cor, i ndáil le dúthracht RTÉ maidir leis an nGaeilge agus leis an bhforbairt réigiúnach, an t-aistriú go Baile na hAbhann. Naoi mbliana dar gcionn, agus béim á leagan ar an aer againn ar ár n-ionad sa Ghaeltacht, agus an comhar páirtnéireachta le TG4 á neartú, is léir go bhfuil ár ndúthracht chomh tréan inniu agus a bhí riamh."
**********************************************
RTÉ and TG4 Launch New Phase of Partnership
- Upgrade to Nuacht programming, continuing from the heart of the Gaeltacht -
RTÉ and TG4 today (Thursday, 22 March 2018) announced a new phase of partnership between the two public service media organisations, which includes the strengthening of the Nuacht news service, provided each day by RTÉ to TG4.
The partnership will see the Nuacht RTÉ bulletins on RTÉ One and RTÉ News Now re-launch with a brand-new look and feel, while retaining the values that have made it a core part of RTÉ News & Current Affairs output. The new brand, Nuacht RTÉ le TG4, also acknowledges the partnership between the broadcasters on-air. Over 420,000 viewers tune in to Nuacht programmes on RTÉ One or TG4 each week.
In April, the RTÉ bulletins will move to the newly designed and upgraded news studio at TG4 in Baile na hAbhann. The new studio at TG4 Headquarters was recently unveiled to viewers on TG4 following a major investment. Take a 360° look inside the new Nuacht RTÉ le TG4 / Nuacht TG4 studio here https://youtu.be/8a-kDlgq8IA
RTÉ have provided a Nuacht Irish-language news bulletin service to viewers since the founding of the TV station in 1961. As part of a long-running agreement with TG4, RTÉ has also provided news bulletins to the channel since it began broadcasting 21 years ago.
Current Nuacht services provided by RTÉ staff include live daily programmes on RTÉ One (5.40pm), RTÉ News Now (5pm) and TG4 (7pm), online news on both websites, and reports and content on RTÉ Raidió na Gaeltachta. Nuacht also has regional correspondents in West Kerry, Limerick, Doirí Beaga in Donegal and Belfast along with a dedicated Political Correspondent in Leinster House.
Jon Williams, Director of RTÉ News and Current Affairs, said: "I'm incredibly proud of our Irish-language journalism - it's part of what makes RTÉ unique: delivering news and current affairs, on-air and online, in English and Irish, from around the country and around the world. And I'm incredibly grateful to Alan and the TG4 team for their support and collaboration, we could have no better partners in our shared endeavour.
Nuacht RTÉ has a long and proud pedigree. In 2009, RTÉ's then Director-General, Cathal Goan, hailed the move to Baile na hAbhann as a significant development in terms of RTÉ's commitment to both the Irish language and regional development. Nine years on, championing our presence in the Gaeltacht on-air and enhancing our partnership with TG4, shows that commitment is as strong as ever."

TG4 Director General, Alan Esslemont said: "Nuacht TG4 is a news service which has created its distinctive 'súil eile' by taking a different perspective to Ireland. It is a view which is national, international and local, which is proudly head-quartered outside of Dublin and which seeks to avoid the metropolitan skews common in some other media. TG4 has invested resources in the last year to bring its news studio up to world-class standards and we are delighted that the bulletin will now have a window on RTÉ television channels. TG4 is very proud of its partnership with RTÉ and of the quality RTÉ journalism which is at the heart of that partnership."