Press Releases
RTÉ's Winning Streak to celebrate landmark 1,000th episode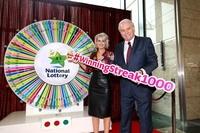 RTÉ's much-prized Saturday night game show Winning Streak reaches a milestone this weekend as it rolls out the red carpet for its 1000th episode. One of Europe's longest-running game shows it has featured a total of 5,925 players since the first episode was broadcast on the 21st September 1990, who have won a whopping €168 million between them*, with €2.8 million alone being won so far on this current season alone.
Popular duo Marty Whelan and Sinead Kennedy have been presenting together since 2013 and will be putting on the ritz this Saturday for a very special show. Marty said: '1,000 shows – it is such an impressive feat but it is a true testament to how the format of Winning Streak works. It is reality TV, before reality TV existed, and to get to know each of the five players every week while guiding them through the games and watching them win thousands of euro really is fascinating. It has been an honour to have played a part in the success of the show which has been a Saturday evening staple in households across Ireland for almost three decades.'
Entering her fifth series on Winning Streak, Sinead Kennedy said: 'My favourite part of the show is getting to know each contestant over the week leading up to the show, first by having a conversation or two over the phone, and then meeting them in person. Even though the show is only on for one hour, in that hour I think that the viewers also get to know five players on screen and that is what makes the show so successful.'
RTÉ's Group Head of Entertainment and Music John McHugh added: 'The winning formula of Winning Streak is quite simple – it's human stories from all around the country, with happy endings. Marty and Sinead bring so much warmth to the show and their excitement is genuine when contestants win what are often life changing prizes on the show. The series has been getting great viewing figures this season and it's clear that the public have a huge amount of affection for this Saturday night institution.'
Dublin has been the luckiest Winning Streak county which has featured 1,044 players, winning a total of €29,139,734. The capital is followed by Co. Cork, who have has 573 players on the show, winning a combined €17,619,767. 346 Galway Winning Streak players have taken €9,336,018 back west with them over the years. €7,421,147 has been shared by 283 Donegal winners, while 266 Limerick players have walked away with a total of €7,956,136.
Kilkenny is the county that comes out on top of the highest average prize per player per county in Winning Streak history, with players winning an average of €34,530. Following the Marble City is Wicklow (€33,030); Cork (€30,750); Leitrim (€30,607) and Westmeath (€30,395).
Nearly 30 cent in every €1 spent on Winning Streak scratch cards and all National Lottery games go back to good causes in the areas of sport, youth, health, welfare, education, arts and heritage. In total more than €5 billion has been raised for good causes since the National Lottery was established 30 years ago. In 2017 alone, the National Lottery raised over €225 million for such good causes.
Winning Streak airs this Saturday at 8.25pm on RTÉ One.