Press Releases
RTÉ announces Eurovision Song Contest entry for 2018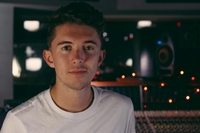 RTÉ is delighted to announce the ballad Together penned by Ryan O'Shaughnessy, Mark Caplice and Laura Elizabeth Hughes as Ireland's entry for the Eurovision Song Contest 2018. Singer-songwriter Ryan O'Shaughnessy will perform the ballad in the first Eurovision Semi Final in Lisbon on Tuesday May 8.
In August of last year, RTÉ held a Eurovision Song Contest Forum and invited key industry professionals, songwriters and performers to come to RTÉ to gain a deeper insight into the present day contest from international Eurovision experts and key RTÉ decision makers. The forum created debate and fostered new ideas as to the way RTÉ might approach the song contest this year. Over 300 songs were submitted to RTÉ for consideration before the November deadline. The song Together was chosen after being selected by a panel of music industry professionals who listened to and judged the shortlisted final entries.
Together was purposefully written for the Eurovision Song Contest by writers working in The Nucleus, a new Irish songwriting team and hub, founded by Hamlet Sweeney, that brings the international model of collaborative songwriting to Ireland.
Ryan said, "As one of three songwriters on Together, I'm delighted it has been chosen to represent Ireland in Eurovision 2018, and on top of that, to be asked to perform for my country is an absolute honour. I plan on doing Ireland proud by bringing a song and performance to Eurovision that we haven't seen since the days of 'Rock and Roll Kids'. Last year's winning song from Salvador Sobral was a beautiful, melodic piece, and I think it may have carved the way for the Eurovision to revert back to being a song contest where true songs can flourish. I can't wait to get onto that stage and perform an honest piece for millions of people."
The Eurovision Song Contest semi finals take place in Lisbon, Portugal this summer on Tuesday May 8 and Thursday May 10 with the grand final taking place on Saturday May 12. Ryan will perform Together in the first semi final on Tuesday in the Altice Arena which has a capacity of 20,000 and is one of the largest indoor arenas in Europe.
About Ryan O'Shaughnessy
From Skerries, Ryan O'Shaughnessy was born in 1992 into a musical family, and became a student of Billy Barrie at the age of 4. When he was 8 years old an opportunity arose for Ryan to play the character Mark Halpin in RTÉ's Fair City, a role he played for almost a decade. He matured as Damien Halpin's younger brother and spent his teen years on the Irish screens. By the age of 17, music had become a priority for the North County Dublin native, and he left Fair City to pursue a career in music.
While studying at BIMM Dublin as a songwriter in 2012, Ryan penned his first collection of songs. Prior to the release of these songs, Ryan appeared on the finals of both The Voice of Ireland and Britain's Got Talent in the same year. In his opening audition on Britain's Got Talent, Ryan performed his now well known, self-penned song No Name which has had over 45 million hits on YouTube. He then returned to the semi finals with another self penned song First Kiss. Ryan was signed to Sony UK under Colin Barlow. While there, he worked on his EP which reached No.1 in Ireland for three consecutive weeks and reached No.9 in the UK charts. During this time Ryan toured the length and breadth of the UK and Ireland.
In July 2013, it was announced that Ryan would be one of the artists taking part in the new Irish songwriting competition The Hit, going up against his former The Voice of Ireland coach Brian Kennedy. O'Shaughnessy chose to release Who Do You Love? to enter the chart battle against Kennedy and won the battle with the single charting at No.3 in the Irish single charts.
Being placed on the global songwriting map at a young age, Ryan has had the pleasure of travelling and writing with some of the world's greatest, including, Julia Fordham, Grammy Award winner Joy Williams, Mark Nevin, and multi platinum selling songwriter Kimmie Rhodes, as well as writing and working for different publishing companies and studios. In the last three years O'Shaughnessy has toured the USA and Canada. His love for songwriting and producing has seen him release music for himself and other artists through his recording label and studio Bayview. His latest album Back to Square One shows a maturity in his songwriting and musical taste. Ryan plays guitar, piano and saxophone.
Editor's Notes:
For further information please contact:
Eurovision Irish Head of Press: Rayna Connery E: rayna.connery@rte.ie T: 01 2083169/ M: 087 9862902
**Please note that Ryan will speak to Ray D'Arcy on his radio show on RTÉ Radio1 at around 4pm this afternoon.**
Please note that photos of Ryan O'Shaughnessy will be sent to national picture desks and are also available upon request.
The final version of the song and video are currently in production and will be released to the public at a later date.
The ESC is the largest entertainment show in the world and is consistently one of the most popular annual television events both in Ireland and across Europe. Last year's Eurovision, hosted by Kyiv in Ukraine reached a total of 182 million viewers across 42 markets. The number of people watching the Eurovision Song Contest online more than doubled from 2016. There were 6 million live streaming sessions in 233 territories across the 3 shows on the official ESC YouTube channel and a total of 8.5 million on-demand requests.
Ireland still holds the record for most Eurovision wins with seven songs:
1970 Dana All Kinds of Everything
1980 Johnny Logan What's Another Year
1987 Johnny Logan Hold Me Now
1992 Linda Martin Why Me?
1993 Niamh Kavanagh In Your Eyes
1994 Paul Harrington and Charlie McGettigan Rock n Roll Kids
1996 Eimear Quinn The Voice
www.thenucleus.ie