Press Releases
RTÉ confirm that Michael Lyster will retire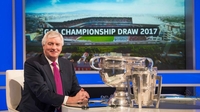 RTÉ today confirmed, that Michael Lyster will continue to present RTÉ's Allianz League Sunday and to anchor The Sunday Game Live until the end of the 2018 GAA Championship season when he is due to retire.
Michael joined RTÉ in 1979 and has presented The Sunday Game since 1984.
Michael said, "I'll be hanging up my hat at the end of 2018. I've a full season of top class GAA action to get through with the National Leagues and of course the Championships this summer and that's what I'm focused on. There's some really exciting changes to come in this year's Championship and I'm looking forward to seeing how they will impact the game.
Following my health scare a few years ago, every day and every year was a bonus. That's the mindset I've continued to have and I feel incredibly lucky to have another season to look forward to at the helm".
RTÉ will announce the anchor for The Sunday Game Live from 2019 in due course.
Micheal Lyster will speak to Ray D'Arcy on RTÉ Radio 1's The Ray D'Arcy Show this afternoon.