Press Releases
FRESH MOVES AT RTÉ RADIO 1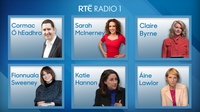 RTÉ Radio 1 today announced a series of changes across its weekday and weekend schedule from February
RTÉ Radio 1
FRESH MOVES AT RTÉ RADIO 1
*** Plus all-female line-up for Late Debate ***
Claire Byrne joins

News at One alongside Áine Lawlor

Three new presenters for

Late Debate

Cormac

Ó

hEadhra

to

present

Saturday with Cormac

Ó

hEadhra
RTÉ Radio 1 today announced a series of changes across its weekday and weekend schedule from February: Claire Byrne will join Áine Lawlor in presenting News at One; Late Debate (10–11pm, Tuesday - Thursday) will have three new presenters, with Sarah McInerney on Tuesdays, Katie Hannon on Wednesdays and Fionnuala Sweeney on Thursdays; Cormac Ó hEadhra will present Saturday with Cormac Ó hEadhra from 1 – 2pm.
Commenting on the changes, Head of RTÉ Radio 1, Tom McGuire said: "The new presenting team of Áine and Claire on RTÉ Radio 1's News at One is exceptionally strong by any measure. And the move of Cormac Ó hEadhra into weekend peak on RTÉ Radio 1 is testament to his proven skills both on RTÉ Raidió na Gaeltachta and standing in on such shows as Today with Sean O'Rourke."
Tom McGuire continued: "Sarah, Fionnuala and Katie - our three new presenters on Late Debate bring with them some truly excellent experience from the world of print, television and international journalism, and I'm delighted to welcome them all to Radio 1, and indeed to welcome Fionnuala Sweeney back to RTÉ from CNN in Atlanta."
Aine Lawlor and Claire Byrne will present News at One on alternate days with Claire continuing to presenting Claire Byrne Live on Monday nights on RTÉ One. Cormac O'hEadhra will take over Saturday with Claire Byrne programme and now present Saturday with Cormac O'hEadhra from 1-2pm weekly on RTÉ Radio 1.
Sarah McInerney was previously the Political Correspondent with the Sunday Times and presenter of Newstalk Drive. She currently presents the Sunday Show on TV3 which she will continue to present. Katie Hannon is Political Correspondent with Prime Time on RTÉ One and was previously Political Correspondent with the Evening Herald and the Irish Examiner as well as Political Editor of the Irish Mail on Sunday. Fionnuala Sweeney returns to RTÉ having been an anchor and correspondent with CNN International in London and Atlanta. Irish audiences will also remember Fionnuala as the solo host of the Eurovision Song Contest in 1993.
RTÉ Radio 1 listeners will also be familiar with Cormac Ó hEadhra as presenter of Late Debate, which brings live debate and analysis of all the news and political stories of the day, including coverage of the day's events in the Oireachtas. Cormac has also regularly presented Today with Sean O'Rourke. He will continue to present Raidio na Gaeltachta's, Cormac ag a Cúig, from 5-7pm on weekdays, which offers lively debate and discussion of news and current affairs in the Irish language.
All changes will take place in February 2018.
Ends
Wednesday 24th January 2018
For information:
Maureen Catterson, Communications Manager, RTÉ Radio I 01 2082255 / 087 7800737 I E: maureen.catterson@rte.ie
Notes to Editors
RTÉ Radio 1
- Latest JNLR: RTÉ Radio 1 weekly reach steady at 37%, 1,393,000
- Latest JNLR: RTÉ Radio 1 Weekday Reach steady at 24% with 891,000 (listeners).
- Latest JNLR: RTÉ Radio 1 remains the only station in Ireland with a weekly reach of over 1M
LATEST RTÉ RADIO 1 JNLR FIGURES
Morning Ireland remains the most listened to radio programme in Ireland with 434,000 listeners
The Ryan Tubridy Show has 330,000 listeners, up 14,000 (y-o-y).
Today with Sean O'Rourke continues to be one of the most listened to news and current affairs programmes with 324,000 listeners daily.
Ronan Collins remains the number one music programme across the country with 212,000 listeners.
News at One has 325,000 listeners each day and is Ireland's number one flagship news programme on radio each day.
370,000 listeners want to 'talk to Joe' each day as Liveline holds its place as the 2nd most listened to radio programme in Ireland.
The Ray D'Arcy Show has 210,000 listeners each day and is the number one in his timeslot on national radio.
With 236,000 listeners, Drivetime with Mary Wilson is the programme of choice for listeners every weekday afternoon, (no change y-o-y).
Late Debate currently has 22,000 (+4,000 YOY) 6% of the national available audience that that time.
Saturday with Claire Byrne currently has 216,000 every Saturday and is the number one programme within its time slot nationwide.

Áine Lawlor
Aine Lawlor joined RTÉ in September 1984 as a trainee journalist, working on a number of radio and television programmes. She then became a reporter/presenter in January 1988, eventually leading to her becoming a presenter on Morning Ireland which she joined in 1995 and presented for over 17 years. She has worked on The Pat Kenny Show, Today at 5, RTÉ 2fm News and a variety of television programmes, including The Nature of Things, Tuesday File and as narrator for the highly-acclaimed series on clerical sexual abuse in Irish institutions, States of Fear. She was awarded Best News Broadcaster of the Year at the prestigious PPI Radio Awards in October 2012 and went on to be inducted into the PPI Hall of Fame in 2014. In August 2013, she joined RTÉ's flagship lunchtime radio news programme News at One as alternating presenter and was also appointed as presenter of The Week in Politics on RTÉ One television. In November 2013, she presented a two-part documentary Facing Cancer which followed her as she re-traced the steps of her journey to overcome breast cancer.
Claire Byrne
Claire is a radio and television Broadcaster with RTÉ where she specialises in current affairs programmes. She presents Claire Byrne Live on Monday nights on RTÉ One and RTÉ News Now. The current affairs programme brings in-depth analysis of current issues and topical reports. Previously, she was part of RTÉ's flagship current affairs programme Prime Time for two years. Claire has hosted a current affairs programme on Saturday afternoon called Saturday with Claire Byrne on RTÉ Radio 1. The topical current affairs show questions agendas, dissects the week gone by, and debates the likely issues of the week to come. Previously, she has worked with Newstalk and TV3 in Ireland, ITN and Channel 5 in London and Channel 103FM and the BBC in the Channel Islands.
Sarah McInerney
Sarah McInerney is a broadcaster and journalist with extensive experience in print, radio and television. She currently presents The Sunday Show on TV3, and is a regular columnist for The Sunday Times. Previously, Sarah was presenter of Newstalk Drive, which won IMRO Current Affairs Show of the Year in 2017. Sarah was also awarded IMRO News Broadcaster of the Year 2017. Before moving to broadcast, Sarah was Political Correspondent with The Sunday Times for eight years, having previously worked as news reporter in The Sunday Tribune. She is author of 'Where No-One Can Hear You Scream', a book about women who were killed or disappeared in the Dublin/Wicklow mountains, published in 2008.
Katie Hannon
Katie Hannon is Prime Time's Political Correspondent, having previously been Political Correspondent of the Evening Herald and the Irish Examiner and Political Editor of the Irish Mail on Sunday. She is the author of 'The Naked Politician', an account of the reality of life in the trenches of Irish politics, published in 2004. Since joining Prime Time as a reporter in 2004 she has covered a wide variety of issues including major investigations into banking, failures in child protection, vaccine trials in children's homes and the Garda whistle-blower controversies. She has won the Irish Goods Council Young Journalist of the Year, the John Healy National Print Award as well as the 'Story of the Year' in the 2012 GSK Medical Media Awards and 2017 Justice Media Award for television news.
Fionnuala Sweeney
Fionnuala Sweeney is a former RTÉ journalist and was the solo host of the 38th Eurovision Song Contest from Millstream, Co. Cork. She then moved to CNN International where she worked as an anchor of prime time news programmes, travelling on reporting assignments to the Middle East and Europe. Fionnuala's role in CNN's coverage of the 2011 Egyptian Uprising from Cairo contributed to an Emmy for outstanding live coverage of a current news story as well as a Peabody Award. She was part of the team nominated for an Emmy for CNN's coverage of the 2011 Libyan Revolution and helped CNN win an Edward R. Murrow Award for its coverage of the 2006 Israel/Hezbollah war. Most recently, Fionnuala became an Atlantic Fellow at the Global Brain Health Institute at Trinity College Dublin/University of California, San Francisco.
Cormac O'hEadhra
Cormac ag a Cúig is an award-winning drivetime magazine programme focused primarily on current affairs, broadcast Monday to Friday at 5pm on RTÉ Raidió na Gaeltachta, presented by Cormac Ó hEadhra. A lively weekly panel discussion of current affairs; a hard-hitting review of the Irish language media; and a vibrant Friday entertainment diary, are amongst the show's weekly features. He has presented Late Debate, a live debate and analysis of all the news and political stories of the day, including coverage of today's events in the Oireachtas. Cormac is the regular stand in presenter on Today with Sean O'Rourke when Sean is on leave.