Press Releases
Outstanding Achievement Award for RTÉ's Ingrid Miley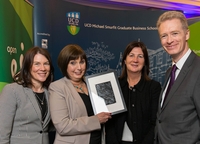 RTÉ's Ingrid Miley was one of Ireland's top business journalists recognised yesterday at the 11th UCD Smurfit School Business Journalist Awards. The awards, which recognise excellence in business journalism – in print, broadcast and online formats – were run in conjunction with the Business Journalists Association of Ireland.
An Outstanding Achievement Award was presented to Ingrid Miley of RTÉ for her contribution to business journalism across both radio and television in a career spanning almost 40 years. In acknowledging her contribution, UCD Smurfit School highlighted the insight and clarity she has brought to some of the most complex industrial relations issues Ireland has faced, including major strikes and reporting on negotiations in public sector pay and reform. Ingrid's work as Industry and Employment Correspondent for RTÉ News on dealing with issues such as the exploitation of workers and precarious contracts was also singled out.
In winning this award Ingrid becomes the first female recipient of the accolade and joins previous Outstanding Achievement Awardees: Frank Fitzgibbon; Brendan Keenan; Cliff Taylor; Damien Kiberd; Richard Curran; Matt Cooper and Charlie Weston.
The awards ceremony also saw the RTÉ One TV documentary about vulture funds, The Great Irish Sell-off by Sunday Business Post Editor Ian Kehoe, awarded Best Business Feature.
Pictured from left to right: Eavann Murphy, Director, Sales Services & Marketing open eir (sponsor); – Ingrid Miley, RTÉ, Emer Gilvarry, Chair, Business Journalist Awards Judging Panel and Chairperson, Mason Hayes & Curran, Professor Professor Mike O'Neill, Associate Dean and Director - UCD Smurfit School.