Press Releases
RTÉ announces review of orchestral services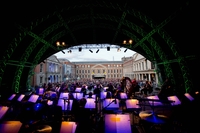 RTÉ to review provision of quality and sustainable orchestral services
RTÉ has today announced a review of its provision of orchestral services. The independent review will look at the best way of providing high quality and sustainable orchestral services to the Irish public, and will cover both the RTÉ National Symphony Orchestra and the RTÉ Concert Orchestra.
RTÉ has a statutory requirement to 'establish and maintain orchestras, choirs and other cultural performing groups'. Beyond its statutory obligations, RTÉ's orchestras are integral to RTÉ's arts and cultural programming, and form a key part of RTÉ's arts and culture strategy, which was submitted recently to the BAI as part of new five year strategy (2018-2023). Through this strategy, RTÉ wishes to extend the reach of its orchestral music, by performing to a wider range of audiences, right across the country, and enhancing broadcast opportunities.
The review will be led by former Director of BBC Radio and of BBC News, Ms. Helen Boaden, who will work with the support of strategy consulting firm Mediatique.
While RTÉ is the primary custodian of symphonic and orchestral music in Ireland, and is the biggest employer of musicians in the country, RTÉ's financial circumstances remain challenging. Despite this, through its orchestras, RTÉ has and continues to showcase Irish artists, celebrate Ireland's rich musical heritage, and provides promotional platforms to a wide spectrum of performers. RTÉ wishes to safeguard these activities for audiences into the future.
Says Aodán Ó Dubhghaill, Head of RTÉ Orchestras: "RTÉ's orchestras have a singular place in Irish musical heritage and have nurtured, through performance and education, generations of world class musicians. It is my view that a modern European democracy should protect its classical musicians and artists as a key part of the fabric of our societies and the culture that binds us. Through my work with colleagues in the European Broadcasting Union I can see that orchestras across Europe are suffering cuts to their funding, reflecting the threat to public service media globally. RTÉ's overall funding position is well known and it is incumbent on RTÉ to consider and assess its role in the provision of orchestral music as it plans for the future. In this context, this review will look at what our current and future audiences want, how they will engage with us and how RTÉ's orchestral music will be heard in venues, on screens and on radio right across the country."
Ends
About Helen Boaden
Helen Boaden is one of the UK's leading media executives, with 34 years' experience at the BBC, including senior Executive Board positions. Most recently these included, Director of BBC Radio, Director of BBC News and Controller of Radio 4. As Director of BBC Radio, Helen was responsible for strategic performance and operational delivery of all BBC network radio stations, BBC Proms, BBC orchestras, performing groups and musical festivals. As Director of BBC News, Helen had responsibility for journalistic values, audience performance and operational delivery of BBC News at home and abroad, including overseeing 8,000 journalists. Helen is a Council Member of Royal Academy of Arts, Chair of Stephen Joseph Theatre Scarborough, Advisory Board Member to Shorenstein Centre on Media, Politics & Public Policy, Harvard University and Senior media adviser to Boston Consulting Group.
About Mediatique
Mediatique is a strategic advisory firm specialising in the media and communications industries with considerable experience of working with broadcasters. Mediatique works with clients to better understand and respond to industry developments, across three core competencies: strategy consulting, market sizing and scoping, and commercial due diligence. Mediatique has worked with RTÉ on a number of key projects. Working with Helen Boaden, Mediatique has developed an evidence-based proposal to assist RTÉ with its review of orchestral provision.