Press Releases
RTÉ Investigates - Nightmare to Let: Tonight on Prime Time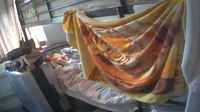 2 Nov 2017: Tonight on Prime Time, Thursday 2nd November at 9.35pm on RTÉ One:
Dublin Fire Brigade closed three buildings following an undercover investigation by RTÉ Investigates into substandard accommodation, which will air tonight on RTÉ One.
RTÉ Investigates spent six months examining standards in the private rental sector. Undercover researchers found dangerously overcrowded accommodation and sub-standard buildings with multiple fire safety breaches. Three multiple occupancy buildings with more than 120 tenants have since been closed after inspection by Dublin Fire Brigade.
RTÉ Investigates will reveal the full extent of the conditions uncovered in buildings located in Crumlin, Kilmainham and Rathmines. One building alone contained over 60 tenants while another had over 40 tenants. One fire safety expert described the conditions as "the worst he had ever seen."
Responsibility for inspecting these properties rests with local councils. And, the latest figures from those inspections, or the lack of them, paint a grim picture of standards countrywide.
Figures supplied to RTÉ Investigates under Freedom of information reveal that only 4% of rental properties were inspected last year and of those that were inspected, more than two thirds were not compliant with the regulations.
There was a 100% failure rate in four districts -
Kilkenny, Louth, Offaly, Limerick city and county.
The figures show that the overall non-compliance rate for the country stands at 69 per cent.
Aideen Hayden, Threshold said on the programme: "
What we are seeing, the case studies we are seen in the programme illustrate that the situation is becoming significantly worse. It is a failure of regulation and it is a failure on the part of those people who have responsibility for regulation and it is a failure on the part of the government in relation to funding the enforcement of this regulation. These are situations that should not be tolerated in a humane society and it is an absolute failure on our part as a people
."
- Ends -
All copy, quotes and images should be credited RTÉ Investigates.
Clips for online and social media use available for immediate use below.
Notes to Editor:
High Court injunction action yesterday/today was in relation to property in Kilmainham which is featured.
Vacation order granted to Dublin Fire Brigade / Dublin City Council by High Court earlier this month was in relation to property in Crumlin which is also featured.
Date: Thursday 2nd November 2017
Contact: Laura Fitzgerald, Communications Manager, RTÉ News and Current Affairs, 087 2923931 or Laura.Fitzgerald@rte.ie