Press Releases
Approx 9,000 hours of RTÉ News content digitised by RTÉ Archives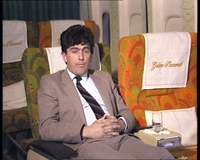 The Kerry Babies Tribunal, U2 at Madison Square Garden, the collapse of the Berlin Wall, the Omagh bombing, Ireland winning the Triple Crown in Dublin, Ireland's Divorce Referendum, and the Spring Show on a Sunday for the first time - just some of the major Irish and international news stories covered by RTÉ News between 1985 – 1999 that have now been digitised, and preserved, for the first time, as part of a major undertaking by RTÉ Archives, with the support of the Broadcasting Authority of Ireland.
The RTÉ Archives News Collection will be made available to the public from today, Friday 27th October, which is the UNESCO World Day for Audiovisual Heritage, at www.rte.ie/archives/collections/news will initially feature almost 1,500 RTÉ News reports from the period, 7th March – 31st December 1985. RTÉ Archives will then post new material to the online News Collection daily.
Head of RTÉ Archives, Brid Dooley said: "The broadcast recordings and materials managed and preserved by RTÉ Archives are a distinct part of our collective cultural memory, offering unique insights into the unfolding Irish State from 1926, when Radio Éireann was founded, right up to the present day. However, over a quarter of a century after its introduction, the video tape format, which replaced film, is now in peril and must be reformatted to be preserved. Without this intervention valuable content is at risk of being lost to future generations.
She continued, "Thankfully, the importance of video recordings of news created by RTÉ between 1985 and 1999 was recognised by the BAI, through its Archiving Scheme, as a unique primary source of history and our shared experience as a nation. I am proud to say that through the RTÉ Archives News Collection we can now view, interrogate and celebrate our past through the lens of the news camera over the decades. We hope people will enjoy this journey of discovery as the online collection grows over the coming months and years. "
RTE Archives digitised 13,332 tapes for the News Collection featuring approximately 9,000 hours of news content. The video tapes travelled from Dublin to Amsterdam where they were baked in specially designed ovens to recover the picture and sound quality before final digitisation. The files are now stored securely and will be managed and preserved for the future as part of RTÉ's digital archive. RTÉ Archives is now inviting the public to discover a 14 year period from Ireland's recent past through a wide variety of news stories which form an important part of the story of our nation.
A full collection of clips is now available at www.rte.ie/archives/collections/news, including:
Divorce Campaign Protest (Caroline Erskine reports)
http://www.rte.ie/archives/collections/news/21185730-divorce-campaign-protest/
Electronic News Gathering Introduced (Tommie Gorman/Jim Fahy report)
http://www.rte.ie/archives/collections/news/21190608-electronic-news-gathering-introduced/
Slane split on Springsteen concert (Alan McCullough reports)
http://www.rte.ie/archives/collections/news/21194266-slane-split-on-springsteen-concert/
St. Teresa's Gardens (Des Cahill reports on a new image for the area)
http://www.rte.ie/archives/collections/news/21174122-st-teresas-gardens/
Commenting, Hilary McGouran, Deputy Managing Director, RTÉ News and Current Affairs, said: "The launch of the News Collection is a very significant event, not just for RTÉ Archives and RTÉ News, but for the Irish public who now have an opportunity to engage with and understand our recent past through RTÉ reports of important local, national and international news stories, many of which have relevance today. Not only have I enjoyed reliving some remarkable events of the period, I've also got great pleasure from seeing current and former colleagues going about their jobs of sharing the news stories, big and small. And while there are one or two moments of hilarity here and there, we now have a wonderful resource at our fingertips. To think that these reports may have been lost to us forever is incomprehensible. I truly hope that people take time to enjoy this collection which offers invaluable perspectives on our recent past."
From today, Friday 27th October, almost 1,500 RTÉ News clips from 7th March – 31st December 1985 will be available at www.rte.ie/archives/collections/news. Begin your journey of discovery now. For more on the RTE Archives, visit www.rte.ie/archives.