Press Releases
David Heusel 17 December 1956-30 September 2017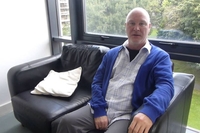 The sudden death of conductor David Heusel in Dublin on Saturday has come as a shock to the RTÉ Concert Orchestra and the wider musical community.
David was due to conduct the RTÉ CO, tenor Noah Stewart and soprano Cara O'Sullivan in an evening of operatic favourites in the National Concert Hall that night, a concert cancelled as a mark of respect when we learned of his death. Opera featured strongly in David's work with the orchestra over the years, from when they first worked together on Humperdinck's Hansel and Gretel in 1994. He went on to conduct the orchestra in six more opera productions up to 2002. But he also worked with the RTÉ CO on the concert platform in a range of lunchtime and evening concerts with an eclectic repertoire including Michael d'Arcy playing Kurt Weill's Violin Concerto, Regina Nathan in Samuel Barber's Knoxville and Kenneth Edge in Ibert's Concertino da camera, as well as more standard repertoire from Offenbach to Bernstein. David was on the podium for opera galas with a plethora of Irish singers for both Opera Ireland in 2002 and in 2013 for Lyric Opera in what was to be his final performance with the RTÉ Concert Orchestra.
RTÉ CO bassoonist John Leonard recalls: 'Off the podium David was terrific company with a broad knowledge and love for all the arts. He spoke as eloquently about literature as he did about music and he had an informed, balanced and equitable view of life and humanity. He had a thorough knowledge of the music and was sympathetic to all aspects of stage production and theatre. His fluency in several European languages was an asset in the diversity of the operatic world. He had an easygoing but persuasive manner for both musicians and singers that achieved wonderful results and a charm that won over people working in what were sometimes challenging conditions.'
David Heusel, says RTÉ CO oboeist David Agnew, was 'American, living in Germany, working all over the world, but somehow part-Irish and certainly part of our family'.
Our sincere condolences to his husband Ralf Rossa, his family in the USA and his friends and colleagues in music worldwide.