Press Releases
RTÉ Radio 1 announce winners of the Francis MacManus competition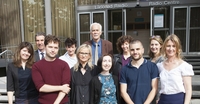 One of Ireland's longest established and most significant literary prizes, the Francis MacManus Short Story Competition, today announces newcomer to fiction Colin Walsh as winner of this year's contest for his story, The Flare Carves Itself Through The Dark.
The Francis MacManus Short Story Competition, in memory of the writer and RTÉ radio producer Francis MacManus, has been a critically important launch pad for new and emerging writers since its inception in 1986. Past winners have gone on to receive national and international acclaim, including Claire Keegan, Molly McCloskey, Anthony Glavin and Nuala O'Connor.
Colin wins €3,000 euros and his story will be broadcast on Monday 2nd October at 11.20pm on RTÉ Radio 1 in the Book on One slot, followed by the second and third prizewinners and, over the following weeks, by the rest of the shortlist of 26 stories, chosen anonymously from almost 500 entries.
Second prize (€2,000) goes to Barbara Leahy for her story, Stones That Might Be Diamonds and third prize (€1,000) to Felipe Deakin for his story, Flashing Lights.
The stories on this year's shortlist will be read by leading actors including Kathy-Rose O'Brien, Gary Murphy, Emmet Kirwan, Ali White, Ingrid Craigie, Ger Ryan, Denis Conway and Peter Hanly.
Writer Lia Mills, Tramp Press publisher Sarah Davis Goff and writer and editor, Anthony Glavin, were this year's judges. Sarah Davis-Goff said of the winning entry:
'Great short stories have to be great on a sentence level and great on a structural level, and the best achieve more – they grab you, then surprise you. The Flare that Carves Itself Through the Dark achieves everything that a great story should. The observations are honest and creative, the characters and town sparingly well drawn, and the ending a revelation.
Colin Walsh comes from the West of Ireland and has only been writing fiction since 2016. His winning entry, The Flare that Carves Itself Through the Dark, chronicles a night in the life of a teenage boy on the eve of his departure for university. While finishing up his last shift in a small town cinema, the boy contemplates his new life as he encounters local characters who help shape his life to come.
Barbara Leahy from Cork, who takes second prize, was previously shortlisted for the Francis MacManus competition in 2014. Competition judge Anthony Glavin said of her story, Stones That Might Be Diamonds, which features a girl seeking power in an adult world:
"Graphic prose and confident pacing gradually unpack a compelling storyline with a reflective adolescent protagonist, and the anger and angst she feels about her fractured family".
Felipe Deakin, in third place, is originally from Uruguay but has been living in Ireland for the last fifteen years and is working on a novel. Felipe's short story Flashing Lights follows a young woman in love for the first time who is struggling to reconcile her romantic notions about her boyfriend having witnessed his epileptic fit in a taxi. Competition judge Lia Mills called it: "A captivating story, told with confident restraint. At first we think we know where we are, but then comes the turn and – where are we?"
Listen to the winning entry here: