Press Releases
Celebrity Operation Transformation Leaders shed over 5 stone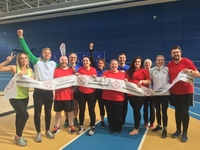 RTÉ today revealed the final weight loss for the five leaders who took part in the second series of Celebrity Operation Transformation. In just four weeks X Factor singer Mary Byrne, beauty expert Triona McCarthy, chef Gary O'Hanlon, social media influencer James Patrice and singer Kayleigh Cullinan collectively lost 75.5 pounds in weight – 5 stone 5.5 lbs. (Please see weight loss chart below for individual weight loss statistics)
When Professor Niall Moyna re-tested the celebrities' fitness levels in DCU the tests showed that Gary now has average fitness levels for his age – he went from being in the lowest 10% bracket to 50% and has reduced his waistline by 4 inches to 39 inches (having a waistline below 40 inches greatly reduces the risk of cardiovascular disease) Kayleigh has improved her fitness levels by 25%. Triona lowered her cholesterol from 6.6 (very high) to 5.2 (normal). James has had the biggest weight loss in the group and in total has lost over 20 inches, including 6 inches off his waist line. Mary has greatly improved her fitness and mobility. The movement in her knee has gone from 70 to 90 degrees. She's lost 19 inches off her body.
Presented by Kathryn Thomas, Celebrity Operation Transformation followed the five leaders across the month of September as they inspired viewers to get back in shape post summer following the OT food and fitness plan.
Host Kathryn Thomas said: "I'm so proud of all five of our leaders. I think viewers have all lived through their highs and lows over the past month whether it was Knickergate with Triona, James getting emotional at the weekly weigh ins, Mary conquering her fear of heights, Gary kicking his Red Bull habit but regularly forgetting his snacks or Kayleigh in fits of giggles trying tandem cycling with her sister! The five of them were brave enough to invite us into their homes and their lives for the past month – they are proof that when you put your mind to it you can achieve anything. So I'd say if you want 2018 to be the year that you lose the weight that's been holding you back from living the life you'd like please get in touch with the Operation Transformation team – we've opened the application process for the eleventh series and we'd love to hear from you."
People can apply to be leaders for the eleventh series online from tomorrow at rte.ie/ot or call the OT team on 01 8641444.
The five leaders started the food and fitness plan on Monday 28th August and faced the ultimate test of fitness, strength and courage with the OT brand new weekly physical group challenge the Modern Pentathlon.
To mark the Operation Transformation finale Pentathlon Ireland are putting on a free Laser Run taster event next Saturday for any OT viewers who would like to try the sport out. Next year Ireland will play host to the Laser-Run World Championship, and Pentathlon Ireland want Operation Transformation viewers to experience what the sport is like. If you'd like to take part on September 30th in Swords Castle, Co. Dublin please book your place by logging on to www.pentathlon.ie
Celebrity Operation Transformation has been supported on RTÉ Radio 1 by The Ray D'Arcy Show. Tune in today after 4pm to hear interviews with Gary O'Hanlon and dietitian Aoife Hearne.
Celebrity Operation Transformation is sponsored by Safefood.
The final episode airs on RTÉ One at 9:35pm on Wednesday September 27th.