Press Releases
Up for the Match on the hunt for the biggest Mayo & Dublin fans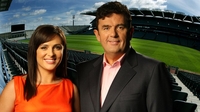 Last Saturday's Up for the Match featured two of Galway and Waterford's biggest hurling fans on the show. And now Des and Gráinne are looking to find their Dubs or Mayo for Sam equivalent!
Click here to see Gráinne tell viewers how to enter - https://youtu.be/ivOdlwnzrZY
Maybe you come from the biggest family of Dubs fans in the country, and have the memorabilia and tall tales to prove it? Perhaps you have composed a Mayo song or written a tribute to your county team that you want to share with the nation? If so, get your smart phones out and start filming!
To enter, send in your videos outlining why you believe you are either Dublin or Mayo's biggest fan. If possible, make sure to film in landscape rather than portrait. The more imaginative or creative you can be with your videos the better as we will be making our decision based on the content that really stands out.
A selection of the best videos will be broadcast on the show on Saturday 16 September.
And for the cream of the crop Up for the Match are offering a once-in-a-lifetime prize - two tickets to the live TV show on Saturday 16th September in RTÉ studios, overnight accommodation at a hotel in Dublin on the night- plus a pair of tickets each to the All Ireland Football Final the following day (courtesy of GAAGO).
So if you think you have what it takes to be your county's biggest fan send your video to our dedicated email address: biggestfan@rte.ie
Please make sure to put your county name in the subject heading, and include a daytime telephone number.
The closing date for the receipt of entries is Tuesday September 12
Notes
All entrants must be free to travel to Dublin to appear on the show on Saturday 16 September.
Maximum clip duration is 1 minute- short and snappy is generally best. If your video file size is over 25 MB then send it to us via WeTransfer or similar. Alternatively, email us a YouTube or Vimeo link to your video.