Press Releases
Crowning of the Offaly Rose proves to be the right medicine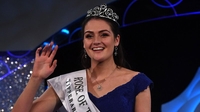 Dr Yes! The crowning of the new Rose of Tralee, Dr. Jennifer Byrne, drew a peak* of 720,800 viewers as audiences tuned in to RTÉ One to see an emotional and delighted Offaly Rose named as the 59th Rose of Tralee. 66% of people watching television at the time were watching Daithí Ó Sé on RTÉ One as he made the exciting announcement.
During the two days a reach of over 1.5 million** people tuned in to watch the Rose of Tralee making it one of the highest rating programmes of the year. Last night an average audience of 637,000*** tuned in after RTÉ One's Nine O' Clock news.
Speaking about this year's Rose of Tralee, host Dáithí Ó Sé said: "I've had another brilliant year hosting the Rose of Tralee. The shows were fast paced and a lot of fun from start to finish. The Roses were fantastic and made my two nights of hosting the Rose of Tralee very easy. I'm delighted for Jennifer – she's an all rounder, great fun and her energetic personality and caring nature really shone through during the week and also on stage. She will be a wonderful ambassador for the Rose of Tralee"
RTÉ's executive producer of this year's Rose of Tralee show Michael Kealy said, "We are delighted with this year's viewing figures. There is no entertainment show like this in the world – it is uniquely Irish which is a huge hit with audiences at home and online. Dáithí Ó Sé is, as always, a consummate professional and his contagious humour made the live event more fun. I wish the new Rose of Tralee Jennifer Byrne all the best over the coming year."
The Rose of Tralee's popularity in Ireland and around the world continued on RTÉ Player and RTÉ Player International, with over 120,000 total worldwide streams to date. This year saw the highest level of live streams ever for the Rose of Tralee on RTÉ Player with 55,000 live streams in total across both nights showing an increase of 22% on 2016 live streams. 35% of live streams were served to international audiences, with the highest number of international streams coming from the UK, US, Spain, Germany and France.
It was also the number one show trending on twitter both nights proving that the live shows continue to be hugely popular on social media.
Speaking about her win the 2017 Rose of Tralee winner Dr. Jennifer Byrne said: "I think my heart is about to jump out of my chest but I'm really, really excited but I genuinely can't believe it, it's fantastic. My first thought was 'did Dáithí actually just say my name, I wasn't really expecting it at all'. I thought 'this is going to be incredible'. Maggie McEldowney is an unbelievable representative for the Rose of Tralee and I'll be asking her for a few tips because I have got big boots to fill now."
Source for television figures: TAM Ireland Ltd/ Nielsen TAM, Live + VOSDAL data, National Individuals
Source for RTÉ Player figures: comScore DAx Analytics
*Peak-minute audience of 720,800 viewers was recorded at 23:25 last night
**Reach – the net number or percentage of people who have seen a particular piece of broadcast output. The TAM Ireland definition is 1+ minute. Over the two days 1,508,400 people tuned in to watch The Rose of Tralee, which is 35% of all Irish viewers (1 minute cumulative reach. Based on 10 Rose of Tralee programmes that aired on RTÉ One and RTÉ One+1 on 21-22 August 2017)
***Average audience - The average number of viewers across a programme or series, expressed in 000s. TV viewing is measured minute-by-minute, so the average audience is the average across all of these minutes