Press Releases
RTÉ announces extensive coverage of Electric Picnic 2017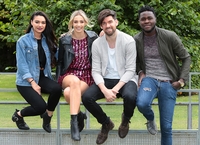 in association with Three Ireland
RTÉ, in association with Three Ireland, today announced details of its coverage of Ireland's biggest music festival, Electric Picnic. Throughout the weekend, from Friday 1st – Sunday 3rd September, RTÉ will bring audiences the best moments from Electric Picnic 2017 across television, radio, online and mobile, presenting its broadest and most comprehensive Picnic coverage to date and ensuring that RTÉ will be the go-to destination for all the latest from Electric Picnic 2017.
RTÉ2
To whet your appetite and to get you in the festival mood, on the eve of Electric Picnic 2017 Thursday 31 August at 11pm, Electric Picnic Preview presented by Bláthnaid Treacy, will bring you all the highlights from last year's festival, including performances from Gavin James, Bell X1, NAS and the 1975.
On Saturday 2 September Electric Picnic 2017 will provide dedicated Electric Picnic coverage live from 8pm right through the night. This coverage will be fronted by Eoghan McDermott and Bláthnaid Treacy, with exclusive performances from main stage headliners.
Soraiya Ryan and Emman Idama will be reporting from the 'Picnic' arena, bringing the latest news, exclusive artist interviews and festival happenings. And, In addition to the headline acts on the main stage, RTÉ2 will be at the 'Other Voices' stage to bring you some of the musical highlights from an eclectic line-up of national and international artists
RTÉ 2FM
RTÉ 2FM will be the go-to radio station for all the latest music, news and gossip from Electric Picnic throughout the weekend. If you can't make it to the festival, be there with RTÉ 2FM:
Friday, September 1st
4 - 7pm: Chris and Ciara kick start your EP weekend
8-10pm: Cormac Battle drives you to The Picnic
10-12pm: Dave Treacy - Picnic Bangers!
Saturday, September 2nd:
3 - 6pm: Stephen Byrne live from the Picnic
8pm: Cormac Battle with live music sets from EP
Sunday, September 3rd:
1 - 3pm: Tracy Clifford live from The Picnic
3 - 6pm: Stephen Byrne live from the Picnic
8 - 10pm: Louise McSharry with more Picnic bangers
10 - 12pm: Alternative Picnic with Dan Hegarty
RTÉ Player
RTÉ Player's exclusive dedicated Three hub will feature clips and extras from RTÉ2's Electric Picnic live programme with performances from the Other Voices stage along with artist interviews with Blathnaid Treacy across the weekend and for seven days after the festival at https://www.rte.ie/player/ie/tag/Three/
RTÉ.ie/entertainment
RTE.ie/entertainment will be access-all-areas as it brings an exclusive preview of Stradbally's transformation in the run up to the festival. Watch out for exclusive 'behind the scenes' clips and event information.
Follow the Picnic with RTÉ on social:
Get all the latest updates from #EP2017 on @rte @rte2 @rte2fm Twitter and Facebook.
RTÉ at Electric Picnic 2017 is brought to you in association with Three Ireland.
Brian Geraghty, RTÉ Media Sales says: "This is RTÉ's fourth year covering Electric Picnic across television, radio, digital, online and mobile, and each year we've gone from strength to strength. Our audiences who can't make it to Stradbally get to experience the best of the festival from the comfort of their couch. RTÉ is delighted to partner with Three Ireland this year for what promises to be another brilliant weekend of music and entertainment. Our continued coverage of Electric Picnic reinforces our commitment to showcasing the best of Irish and International music."
For further information please contact:
· Joseph Hoban, T: 01 2082399 M: 086 8128662
· Sinead Harrington, 01-208 2576, 087-6679311, sinead.harrington@rte.ie
· Sandra Byrne, 01-208 2506/ 087 2493048, sandra.byrne@rte.ie