Press Releases
64 Hopeful Roses for this year's RTÉ Rose of Tralee Launch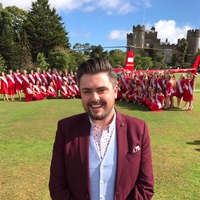 15 August 2017: License To Thrill! Ó Sé - Dáithí Ó Sé - Meets The 64 Hopeful Roses at The RTÉ Rose of Tralee launch
Dáithí Ó Sé brought a license to thrill to the RTÉ Rose of Tralee launch when he was helicoptered into Malahide Castle to meet all 64 hopeful Roses for the first time ahead of this year's 2017 Rose of Tralee International Festival. Dáithí's dramatic aerial entrance, courtesy of a former Rose of Tralee escort and pilot Ted Robinson, ensured that the Rose of Tralee festival started in style.
This is Dáithí's eighth year presenting the show, proving that in his eyes Roses are forever; he and the 2017 Roses were in flying form at Malahide Castle before they began their journey to Tralee.
The festival is now in its 58th year and interviews with the final 32 Roses will be broadcast live from the festival dome in Kerry at 8pm on Monday 21 and Tuesday 22 August on RTÉ One with a break for the Nine O'Clock News. Host Dáithí will be his usual natural, witty and exuberant self as he ensures that the 32 hopefuls will not be shaken or stirred when he interviews them over the two nights. The Rose of Tralee will be available to watch for free, live and on-demand by audiences in Ireland and around the world on RTÉ Player (desktop, iOS and android apps) and RTÉ Player International. A host of exclusive online clips and extras from the Rose of Tralee will also be available on RTÉ Player.
The 32 Roses who make it to the TV broadcast will represent centres in Ireland, Britain, United States, Canada, Australia and New Zealand, mainland Europe and the Middle East.
Nationwide will also celebrate the Rose of Tralee season, with Mary Kennedy visiting three former Roses in their homes. She will meet Alice O'Sullivan who was the 1959 Dublin Rose, now living in Wicklow. She'll also chat to Denise Murphy, the 1991 Cork Rose who is living in Cork and Roisin Egenton, the 2000 New York Rose who is now living in Galway. It will air this Wednesday 17 August at 7pm on RTÉ
For a unique look at what goes on behind the scenes at the Rose of Tralee, go to www.rte.ie/entertainment , where RTÉ.ie will host a dedicated section to the festival featuring backstage reports live from the Dome as well as news stories as and when they happen, live interviews with Dáithí and the Roses and a collection of Dáithí's top five favourite moments over the years, hand-picked by the main man himself. For a serious dose of the festival's fashion along with health and fitness features with the Roses, visit www.rte.ie/lifestyle. Follow the events as they unfold on RTÉ.ie and on RTÉ's Entertainment and Lifestyle Facebook and Twitter pages.
This year James Patrice will return as the backstage Rose Reporter and you can follow his antics across RTÉ One's social media platforms. You will find exclusive behind the scenes content on www.twitter.com/rteone, www.instagram.com/rteone and rteonesnaps as well on @rte @rteplayer and @rtearchives on Twitter. Photo galleries of this year's 64 hopeful Rose contestants are now available to view on www.facebook.com/rteone. The official hashtag is #rteroseoftralee
-Ends-
Date: Tuesday 15 August 2017
Contact: Sinead Harrington, RTÉ TV Press and Publicity Officer, 01-208 2576, 087-666-9311, sinead.harrington@rte.ie
Please note: Images will be sent to national picture desks by Andres Poveda post launch. Images are available on request from sinead.harrington@rte.ie
Notes to editor:
Rose of Tralee Presenter History
· Dáithí O Sé 2010 - 2017 (8 years to date)
· Ray D' Arcy 2005 – 2009 (5 years)
· Ryan Tubridy 2003 and 2004 (2 years)
· Marty Whelan 1997 – 2002 (6 years)
· Derek Davis 1995 and 1996 (2 years)
· Kathleen Watkins 1977 (1 year)
· Gay Byrne 1974 – 1994 (20 years)
· Kevin Hilton, Joe Lynch, Terry Wogan, Brendan O'Reilly, Michael Twomey were early presenters. Although there had been highlights prior to that, Joe Lynch presented the first live broadcast by RTÉ in 1967.
International audiences
The international festival will be streamed live, free and worldwide over the two nights. Here's how to watch the Rose of Tralee live and on-demand worldwide with RTÉ Player.
· iOS viewers worldwide: Get the Player International App http://apple.co/1f6UnMt
· Android viewers: Get the App on Google Play https://play.google.com/store/apps/details?id=air.RTE.OSMF.Minimal&hl=en
· Desktop viewers www.rte.ie/player/ie/