Press Releases
RTÉ MAINTAINS REDUCTIONS OF OVER 30% ON TOP 10 PRESENTER EARNINGS
1 August 2017: RTÉ today publishes the fees earned by its Top 10 highest-paid presenters
The fees cover earnings for 2015, and as in previous years, are published two years in arrears. The latest earning figures for 2015 demonstrate a reduction of 34% as compared to fees earned in 2008. The reduction continues to exceed the publicly-stated commitment given by RTÉ to reduce fees to on-air presenters by at least 30% compared to 2008 levels.
RTÉ Director-General, Dee Forbes, said: "The audited figures released today for 2015 sees RTÉ maintain our commitment to reduce these earnings by 30% as compared to 2008 levels, while continuing to value the significant contribution our presenters make to public media and to RTÉ's ability to optimise commercial revenue to support our public services.
This will continue to be an area of focus for me, as I look to reduce costs across the organisation.
The issue of gender pay is an important one. It is crucial to understand, in terms of the Top 10 figures released today, that many factors influence presenter fees – there are significant variations in programme commitments, broadcast hours and audience numbers.
As stated recently, RTÉ's new Director of Human Resources, Eimear Cusack, has initiated a review of role and gender equality across the organisation. In parallel with that, I will also be working with channel and station management to look at greater representational equality in terms of the make-up of our contributor panels."
As an equal opportunities employer with a close-to 50/50 gender split across the organisation, RTÉ takes its obligations very seriously.

The total Top 10 presenter earnings for 2015 represents less than 1% of RTÉ's total operating costs in 2015 and less than 2% of total personnel related operating costs.
Below Table and attachment: 10 Highest Earnings Presenters 2008, 2014, 2015 on an Earnings Basis.
ENDS
01 August 2017
Joseph Hoban, Head of Communications & Brand Development, RTÉ, joseph.hoban@rte.ie, 086 8128662
Ceire Duggan, Communications Coordinator, ph 086 8410166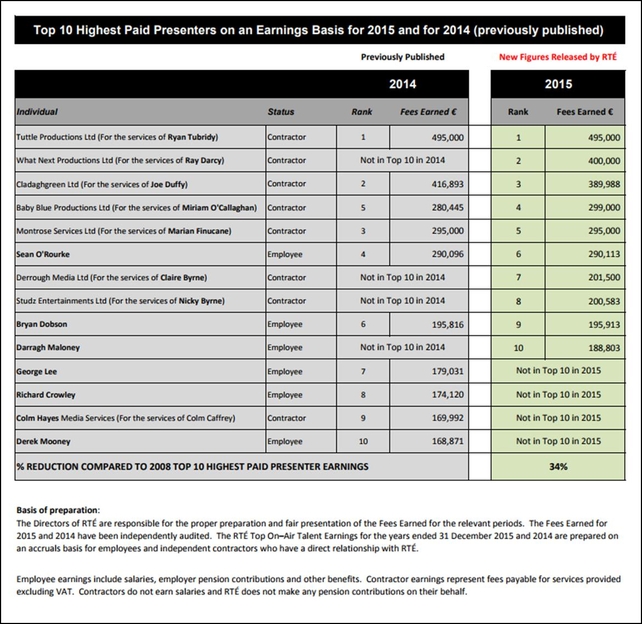 Related Links