Press Releases
A YEAR IN REVIEW | 2016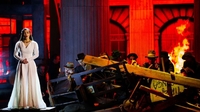 RTÉ CONFIRMS 2016 DEFICIT AS LARGE-SCALE SPECIAL EVENTS AND BREXIT IMPACT RESULTS
See http://www.rte.ie/annualreport for full report.
RTÉ is today releasing its Annual Report and Group Consolidated Financial Statements for the Year Ended 31st December 2016.
Despite recording solid operating profits over the last three years, RTÉ has posted a Net Deficit after Tax of €19.7m for 2016. A range of successful large-scale special events, including the centenary celebrations and commemorations, the General Election, Euro 2016, the Olympic Games and Paralympics, alongside the €5 million reduction in public funding in the 2014 Budget and static income from the licence fee all contributed to RTÉ's financial results for 2016. In a financially difficult year, commercial revenue struggled in the second half of 2016 as the adverse impact of Brexit worsened amid ongoing uncertainty.
The Annual Report also highlights RTÉ's many achievements in 2016, including:
Biggest ever civic event in history of state, RTÉ Reflecting the Rising, staged by RTÉ on Easter Monday attended by 750,000 people
More than 3million people tuned in to RTÉ's television coverage across the Easter commemorative weekend
RTÉ Player delivered a record 4.2 million streams per month and more than 50million overall, up 10 million on 2015
Over 1,000,000 people tuned into RTÉ Radio 1 each week
885 hours of original sport programming delivered by RTÉ Sport, including memorable Euro 2016, Olympic Games, Paralympics and GAA coverage.
RTÉ Orchestras, Quartets and Choirs performed to the delight of more than 184,000 people, up 28,000 year-on-year
RTÉ.ie had an average of 54million page views each month in 2016
Saorview became the largest television platform in Ireland
Dee Forbes, Director-General RTÉ, said: "2016 was a financially challenging year for RTÉ. Hosting and covering the most important anniversary in the history of the state coincided with a General Election, a NI Assembly Election, the UK EU Referendum, a US Presidential Election, the Euros, Olympics and Paralympics. The cost of the centenary events and coverage was an onerous one for RTÉ to absorb, while commercial revenue struggled for growth and public funding remained static. Despite these challenges, RTÉ delivered first-class election and sports coverage and analysis to our audiences on all platforms, and an ambitious centenary programme that we can all be very proud of.
She added, "The investment of proceeds from the recent sale of land and plans to significantly reshape the organisation will better equip RTE to meet the needs of our audiences in what is a very challenging market. However, as I said last week, the current uncertainty around the TV Licence Fee system, both in its current performance and in how and when it might be reformed, is making it almost impossible for RTÉ and those reliant on us, to plan ahead. The failure to reform and modernise the current TV Licence system is costing jobs across the sector, causing a stark reduction on Irish made TV programming, threatening the provision of trusted news and current affairs and is having a stifling effect on the potential of the Irish broadcasting sector as whole."
Moya Doherty, Chair of the RTÉ Board, commented: "While celebrating all that was achieved by RTÉ in 2016, the Board also has to consider many of the challenges facing public-service media and how we can address these. The achievements - growth of RTÉ's digital services, the excellence of RTÉ's investigative journalism, the tremendous coverage of Ireland's centenary and much more besides - are against the backdrop of huge financial challenges, many of which are ongoing. The Board is committed to continuing to work with the Director-General to address these challenges, to help in the development of RTÉ's new five-year strategy and the important evolution of Ireland's national public media."
See http://www.rte.ie/annualreport for more and to download the full report.
ENDS
SÚIL SIAR AR AN MBLIAIN | 2016
EASNAMH AIRGID IN 2016 DEIMHNITHE AG RTÉ AGUS TIONCHAR AG MÓR-IMEACHTAÍ SPEISIALTA AGUS AN BREATIMEACHT AR THORTHAÍ
Déanfaidh RTÉ Tuarascáil Bhliantúil agus Ráitis Airgid Chomhdhlúite an Ghrúpa don bhliain dar críoch an 31ú Nollaig 2016 a eisiúint inniu.
Ainneoin brabús láidir oibríochta le trí bliana bhí Glan-Easnamh €19.7m ar RTÉ sa bhliain 2016 i ndiaidh cánach. I measc na nithe a raibh tionchar acu ar thorthaí airgid na bliana 2016 bhí mór-imeachtaí speisialta, imeachtaí ar éirigh go maith leo - ceiliúradh agus comóradh an chéid, an tOlltoghchán, Euro 2016, na Cluichí Oilimpeacha agus Parailimpeacha - chomh maith le laghdú €5milliún a bheith ar mhaoiniú poiblí i mBuiséad 2014 agus gan aon athrú a bheith ar ioncam ón táille ceadúnais. Ba bhliain achrannach a bhí inti ó thaobh airgid de agus bhí drochthionchar ag an mBreatimeacht agus an neamhchinnteacht a bhain leis ar ioncam tráchtála sa dara leath den bhliain.
Léirítear freisin sa Tuarascáil Bhliantúil go leor de bhuaicphointí RTÉ sa bhliain 2016, ina measc:
An ócáid phoiblí is mó i stair an Stáit a reáchtáil Radharc ar an Réabhlóid RTÉ a bhí ar siúl Luan Cásca agus a ndearna 750,000 duine freastal uirthi.
D'fhéach breis is 3 mhilliún duine ar chlúdach teilifíse RTÉ ar imeachtaí dheireadh seachtaine na Cásca
Cheangail an seinnteoir RTÉ Player 4.2 milliún sruth in aghaidh na míosa
D'éist os cionn 1,000,000 duine le RTÉ Radio 1 gach seachtain
Léirigh Spórt RTÉ 885 uair an chloig d'ábhar spóirt ina measc Euro 2016, na Cluichí Oilimpeacha agus Parailimpeacha agus clúdach CLG.
Chas Ceolfhoirne, Ceathairéid agus Cóir RTÉ do bhreis is 184,000 duine, ardú 28,000 ar an mbliain roimhe sin
Breathnaíodh 54 milliún uair ar an meán in aghaidh na míosa ar RTÉ.ie i rith na bliana 2016
Bhí Saorview ar an ardán teilifíse is mó in Éirinn
Dúirt Dee Forbes, Príomh-Stiúrthóir RTÉ: Ba bhliain dhúshlánach ó taobh airgid a bhí sa bhliain 2016 do RTÉ. Tráth a rabhamar ag déanamh ceiliúradh ar cheann de na hócáidí comórtha is tábhachtaí ó bunaíodh an Stát bhí Olltoghchán sa tír, bhí Toghcháin Chomhthionól Thuaisceart Éireann ar bun chomh maith le Reifreann na RA AE, Toghchán Uachtaránachta i Meiriceá, na Euros, na Cluichí Oilimpeacha agus Parailimpeacha. Bhí costas mór do RTÉ ag baint leis na himeachtaí comórtha agus lena gclúdach agus ag an am céanna is beag fás a tháinig ar ioncam tráchtála agus ní raibh aon athrú ar mhaoiniú poiblí. Ainneoin na ndúshlán sin, thug RTÉ clúdach agus anailís den chéad scoth ar chúrsaí toghcháin agus spóirt dár lucht féachana agus éisteachta ar gach ardán chomh maith le clár comórtha uaillmhianach ar 1916.
Dúirt sí freisin, "Cuideoidh an infheistíocht a dhéanfar ó thalamh a díoladh le gairid agus na pleananna atá ann an eagraíocht a athmhúnlú le RTÉ a ullmhú chun freastal ar riachtanais ár lucht féachana agus éisteachta i margadh atá fíordhúshlánach. Mar a dúirt mé an tseachtain seo caite, áfach, tá sé beagnach dodhéanta ag RTÉ pleanáil chun cinn de bharr na neamhchinnteachta a bhaineann leis an gcóras Táille Ceadúnais Teilifíse agus mar atá ag éirí leis faoi láthair agus mar a d'fhéadfaí an córas a leasú agus an uair a leasófar é. Tá postanna siar leis de bharr nach bhfuiltear ag tabhairt faoin gcóras Ceadúnais Teilifíse reatha a athchóiriú agus a nuachóiriú agus dá bharr tá laghdú mór ar líon na gclár teilifíse atá á dhéanamh in Éirinn, agus déanfaidh sé dochar don soláthar dílis nuachta agus cúrsaí reatha agus beidh a shliocht sin ar acmhainn na hearnála craoltóireachta in Éirinn tríd is tríd.
Dúirt Moya Doherty, Cathaoirleach Bhord RTÉ: "Cé gur maith linn an méid a bhain RTÉ amach sa bhliain 2016 a cheiliúradh, ní mór don Bhord smaoineamh freisin ar na dúshláin go leor atá le sárú ag na meáin seirbhíse poiblí agus mar is féidir linn dul i ngleic leo. Baineadh amach na nithe seo ar fad - méadú ar sheirbhísí digiteacha RTÉ, an scoth i dtaobh iriseoireacht iniúchadh RTÉ, clúdach cuimsitheach ar chomóradh céad bliain 1916 agus neart eile - tráth a raibh dúshláin mhóra le sárú i dtaobh airgid, dúshláin leanúnacha go leor díobh. Tá an Bord tiomanta leanúint ag obair leis an bPríomh-Stiúrthóir chun dul i ngleic leis na dúshláin seo, chun cuidiú le RTÉ straitéis nua cúig bliana a fhorbairt agus athrú tábhachtach ar mheáin seirbhíse poiblí na hÉireann a thabhairt i gcrích."
Féach http://www.rte.ie/annualreport chun tuilleadh eolais a fháil nó chun an tuarascáil féin a íoslódáil.