Press Releases
RTÉ Radio 1 announces Summer Schedule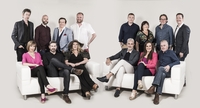 Summer has arrived on RTÉ Radio 1 with seven new shows coming to weekdays; filled with arts, comedy, entertainment and music; and on the weekends some of your favourites in sport make their comeback to the airwaves!
After a successful run last summer, the Queen of Ireland Pantibliss invites us back into her parlour for a cabaret of conversation with 'Pantisocracy'. Panti and her guests begin the season with former bassist with The Pogues Cait O'Riordan and our Hothouse Flower Fiachna O'Braonain for a one off performance.
No stranger to RTÉ Radio 1, on Tuesday nights John Kelly takes us through some of the books and authors we've all heard of, but have we read them? The Reading List with John Kelly is a new series celebrating Truman Capote, James Baldwin and more with a mix of Irish and international contributors.
From one story teller to another, Dave Fanning will pick up from John Kelly with 'Dave Fanning's Story of Irish Rock', a subjective journey through the music of this island. Dave has been championing new music his whole career and across the summer using old interviews and his own archive, Dave tells the story of Irish rock from his perspective starting in the late 60s.
Throughout the summer RTÉ Radio 1 brings you a schedule filled with entertainment. On Wednesday nights Baz Ashmawy livens things up with his unique energy and unshakable spirit with different participants joining him in studio each week looking at who we are, and who we want to be. 'That Baz Thing' promises to be an interactive and engaging night's entertainment which will see him using Snapchat and Instagram, among others, to get you involved.
Following on from his Christmas pilot, Will Hanafin is back with 'Sure T'was Better', on Thursday nights. Will and his panel take us through the RTÉ Radio archive from the 70s looking at how our attitudes have changed from our views on sex, race, religion, politics and more. Comedian Sean Hughes reprises comedy panel show 'Don't Quote Me', from 10.30pm on Thursdays. Expect comedic input from Fiona Looney, Andrew Maxwell, Eleanor Tiernan and more across seven weeks this summer.
Galway singer and musician and current cast member of Once, The Musical, Ruth Smith presents 'Simply Folk' on Saturday nights from 10pm. Expect only the best from the vibrant, ever changing world of folk music and song in Ireland. Award winning country music singer hailing from Louisiana, Robert Mizzell takes the Saturday night reins later this summer, with 'Simply Country'. From what has become a varied country music landscape here in Ireland to what's being served up around the world, Robert Mizzell will be playing it across RTÉ Radio 1 this summer.
Making its return later this summer is award winning series 'Sisters Doing It for Themselves' presented by Weekend on One's Lilian Smith and Sandy Harsch. Like last year, this duo go back in time remembering the forgotten heroines of pop, folk, rock and more from the last fifty years.
Derek Mooney and Bláthnaid Ní Chofaigh take to the airwaves Saturday mornings from 10am, with lively chat and entertainment with a mix of guests to brighten up your morning. 'Second Captains' will be setting you up for the day on Sunday mornings from 10am, with a mix of lively chat, profile interviews, light-hearted banter and music – this show is not just for sports fans. What is for sports fans, along with our live coverage and commentary across Saturday and Sunday Sport is 'The Marty Squad'. Whether you're at home or on your way home from the Championship action across the country, Marty Morrissey, Brenda Donohue and Damian Lawlor are on location chatting to the pundits and the fans bringing you your full post match analysis.
Women are doing it for themselves as Katherine Lynch presents 'Funny Girl' later in the summer. Host Katherine Lynch explores the secrets and tips of writing comedy for stage, radio & screen with Stefanie Preissner, Brona C. Titley and Alison Spittle.
To mark National Heritage Week (August 21st to 25th), Manchán Magan can be heard weeknights at 10pm in this documentary style series, as he takes us on a journey showing us an Ireland we might not know with his encyclopaedic knowledge of our beautiful island and its natural heritage.
Two time award winner for Best Radio Comedy, 'Colm O'Regan Wants A Word' makes its comeback this August Bank Holiday Monday exploring the state of parenting and childhood in Ireland today with friends Tara Flynn, Paul Tylack and other special guests.
So no matter where you are this summer, take RTÉ Radio 1 with you, online, on your radio, or on the RTÉ Radio Player app, for music, sport, culture and entertainment! Whether you listen live or podcast, all programmes will be made available as a podcast.
Head of RTÉ Radio 1, Tom McGuire said; 'The new shows on RTÉ Radio 1 this summer showcase new voices and familiar ones in a new guise. The schedule also reflects the best of independent production alongside some new in-house series. I hope that 'live' or online Radio 1 can keep you company this summer.'