Press Releases
2FM's Jenny Greene and the RTÉ Concert Orchestra are back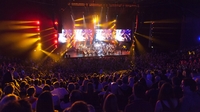 2 March 2017: 2FM's Live with Jenny Greene and the RTÉ Concert Orchestra to bring their sell-out set to the Marquee Cork and back to Dublin's 3Arena
Last year 2FM brought together Jenny Greene and the RTÉ Concert Orchestra for the Standout act of Electric Picnic and a sellout night at Dublin's 3Arena. This year 2FM The Sound of the Nation is taking this Live 90's Experience across the country and will be back at Dublin's 3Arena on Friday April 21st and will be tearing the roof of the tent at the Marquee Cork on Saturday June 17th. Standing alongside Jenny Greene will be Cork-based singer Gemma Sugrue and conductor Gavin Murphy.
Tickets for this new set go on sale via Ticketmaster for Dublin's 3Arena this Friday, March 3rd and for The Marquee Cork on Thursday 9th March both at 9am. Classics from the original set will be delivered along with unbelievably exciting new arrangements which will be a surprise we're keeping just for the night!
They were the standout act of Electric Picnic, blowing the roof off a mobbed Rankin'sWood. During the rehearsal session, word went around Stradbally that something special was on the way and by the time of the performance the tent was packed, with queues of people outside desperate to get in. They topped the list for many as the highlight of the weekend.
Last November in response to phenomenal demand the same team came together for a full gig and it was the hottest ticket in town. Numbers like Rhythm is a Dancer, Children, Not Over Yet, Everybody's Free and Insomnia had a packed 3Arena on their feet for the night.A whole new audience discovered the thrill of seeing and hearing an orchestra in full flight and who better to introduce them than the RTÉ Concert Orchestra, voted the World's Favourite Orchestra in an international poll in 2015.
Doors will open at 7pm with the gig set to start at 8pm in the 3Arena, Dublin - Friday 21st April 2017
Doors will open at 6.30pm with the gig set to start at 8pm in the Marquee, Cork - Saturday 17th June 2017
Tickets €49.50 go on sale this Friday March 3rd at 9.00am for 3Arena Dublin and Thursday March 9th for Marquee, Cork from the following outlets: Ticketmaster outlets nationwide, 24 hr Hotline: 0818 719 300 24 hr, or online: www.ticketmaster.ie
***TICKETS €49.50 ON SALE FRIDAY MARCH 3rd, 3ARENA, 9.00AM***
***TICKETS €49.50 ON SALE THURSDAY MARCH 9th, MARQUEE, CORK, 9.00AM***
Date: Thursday 2nd March 2017
-- Ends –
Maureen Catterson, Communications Manager, RTÉ Radio Ph: +353 1 208 2255 Mob: +353 87 7800737 E: maureen.catterson@rte.ie