Press Releases
Weekly reach of almost 2 million for RTÉ Radio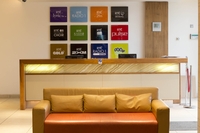 2 February 2017: RTÉ Radio 1 continues to be the only station with a weekly reach of +1M, RTÉ 2FM's share climbs to 6% on Weekdays and listeners choose RTÉ lyric fm for weekend listening as share increases
RTÉ Radio 1, RTÉ 2FM and RTÉ lyric fm combined, reach over half of all of Ireland's listening population, latest figures reveal. Collectively, the three stations have a weekly reach of almost 2 million people (1,879,000), or 52% of the Adult 15+ population.
Commenting on the latest radio figures for RTÉ, Jim Jennings, Managing Director, RTÉ Radio says:
"The weekday schedule on RTÉ Radio 1 continues to grow its audience and maintain its position as the number one station for news, current affairs, entertainment, sport, arts and music. Each week, 37 per cent of the adult population tune in. With audience gains throughout the morning, this is a great result for Radio 1.
"On RTÉ lyric fm, it is encouraging to see the station maintain its market share and see Marty Whelan growing his audience in the morning.
"The increase in listenership on RTÉ 2FM is encouraging, particularly in the younger demographic.
"RTÉ offers a suite of radio stations, catering for all age groups and it is heartening to see the audience responding in huge numbers."
RTÉ Radio 1
The latest JNLR figures, released Wednesday 1st February 2017*, show that RTÉ Radio 1 programmes account for the top 18 in the country (Adults 15+). Radio 1 continues to be the only station in Ireland with a weekly reach of +1M (1,352,000).
Weekday mornings on Radio 1 have done particularly well, with increases (b-o-b) for Morning Ireland, The Ryan Tubridy Show and Today with Sean O'Rourke.
Tom McGuire, Head of RTÉ Radio 1 says: "With more than 1.3m listeners every week, RTÉ Radio 1 is the station of choice for the Irish audience. From Risin' Time to Late Date, I am so proud that brilliant and dedicated teams have received such a vote of confidence from the audience. In a 'post-truth age' of 'alternative facts', the credibility of quality reporting, the breadth of coverage and the reflection of real life will always be guaranteed for the listener to RTÉ Radio 1."
Morning Ireland gains 4,000 listeners b-o-b to 448,000
The Ryan Tubridy Show now has 323,000 listeners, up b-o-b (7,000) and y-o-y (9,000)
Today with Sean O'Rourke increases 7,000 b-o-b to 332,000
Liveline remains the no.2 programme in the country with 387,000, steady y-o-y
Drivetime gains 2,000 listeners b-o-b to 238,000
Arena holds steady, consistent b-o-b and y-o-y with 31,000 listeners
The John Creedon Show gains 8,000 y-o-y and 3,000 b-o-b to 41,000
Arts Tonight / Late Debate / Features increases 2,000 b-o-b and y-o-y to 20,000
Late Date incl. The Book on One gains 1,000 listeners b-o-b to 19,000
Saturday and Sunday evening programmes on RTÉ Radio 1 show gains book-on-book
*Source: JNLR/ Ipsos MRBI 2016/4
RTÉ 2FM
Latest figures show that daily total reach for National radio listening has increased by 12,000. RTÉ 2FM has made a gain of 10,000. Breakfast Republic remains the number one radio show in Ireland for 15-34s and 2FM has seen book-on-book increases across the weekday (7am-7pm) schedule.
Commenting today, Head of RTÉ 2FM, Dan Healy says:
"It's been a good few months for 2FM. The changes we made have had a full 12 months to bed in now and we're really beginning to make strides. Breakfast Republic has had a great result and we continue to see gains throughout the day. We've also seen Larry Gogan's figures go up (Saturday), his increase is testament to his iconic status on Irish radio – we're very lucky.
"The past few months, particularly since Electric Picnic at the beginning of September, have been really exciting in terms of special events and collaborations: Jenny Greene and the RTÉ Concert Orchestra; the 2FM Xmas Ball in aid of ISPCC; the RTÉ Choice Music Prize. Our job now is to keep that momentum going into 2017 and beyond. Today we announced the shortlist for RTÉ Choice Music Prize Song of the Year and we're going to be kicking that off at a gig at the Workman's Club in Dublin tonight, buoyed by the latest figures. We're going in the right direction."
· Breakfast Republic gains 9,000 listeners b-o-b to 154,000
The Nicky Byrne Show with Jenny Greene steady b-o-b with 131,000 listeners
Tracy Clifford gains 3,000 listeners b-o-b to 113,000
The Eoghan McDermott Show up 1,000 b-o-b to 110,000
Game On increases listenership by 2,000 b-o-b and 3,000 y-o-y to 21,000
The Louise McSharry Show (with Conor Behan) / The National Chart Show up 1,000 y-o-y to 20,000 (steady b-o-b)
The Alternative with Dan Hegarty steady b-o-b at 2,000
The Early, Early Breakfast (Lottie Ryan) up 2,000 listeners book-on-book (Saturday)
Weekend Breakfast up 2,000 y-o-y to 48,000 (Saturday)
Larry Gogan up 2,000 b-o-b to 97,000 (Saturday)
Jenny Greene's Electric Disco gains 6,000 y-o-y and 3,000 b-o-b to 18,000 listeners
The Spring Sessions / Dave Clarke's White Noise steady b-o-b at 7,000 (Saturday)
RTÉ lyric fm
RTÉ lyric fm's weekday market share holds steady, while weekends see some increase in share. Marty in the Morning, Sunday Matinee with Aedin Gormley and The Purple Vespertine with Ellen Cranitch and A World of Song all enjoy healthy gains.
Aodán Ó Dubhghaill, Head of RTÉ lyric fm, said: "In an increasingly frenetic world, RTÉ lyric fm remains an oasis of calm. Thank you to the thousands of loyal listeners that tune in to lyric every day. We're delighted that they choose to make lyric their destination station, where life sounds better."
Marty in the Morning gains 5,000 b-on-b and 2,000 y-o-y to 49,000
The John Kelly Ensemble gains 2,000 y-o-y to 32,000
Lorcan Murray's Classic Drive increases listenership by 1,000 to 47,000 b-o-b
RTÉ lyric fm's weeknight schedule (from 7pm) holds steady book-on-book
The Purple Vespertine with Ellen Cranitch (Sat) up 2,000 b-o-b and 5,000 y-o-y to 16,000
Vox Nostra holds steady with 16,000 listeners b-o-b
Aedin Gormley's Sunday Matinee gains 6,000 listeners b-o-b to 45,000 listeners
A World of Song gains b-o-b (8,000) and y-o-y (4,000) to 17,000 listeners
Nova with Bernard Clarke gains 4,000 b-o-b and 2,000 y-o-y to 15,000 listeners
The Purple Vespertine with Ellen Cranitch (Sun) up 2,000 b-o-b and 5,000 y-o-y to 14,000
Top 20 National Radio Programmes Adults 15+ (Time block reach for national stations)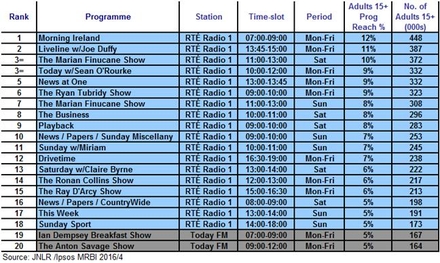 Ends
Date: Thursday 2nd February 2017
Further information:
Maureen Catterson, Communications Manager, RTÉ Radio Ph: +353 1 208 2255 Mob: +353 87 7800737 E: maureen.catterson@rte.ie
Sandra Byrne, Senior Press Officer, RTÉ Radio Ph: +353 1 208 2506 Mob: +353 87 249 3048 E: sandra.byrne@rte.ie
Sheena Madden, Press Officer, RTÉ Radio Ph: +353 1 208 2452 Mob: +353 87 245 8046 E: sheena.madden@rte.ie
Notes to editors:
All comparisons are book-on-book or year-on-year as stated
All figures are All Adults 15+ unless otherwise specified
Book-on-book (BoB) = Source: JNLR/ Ipsos MRBI 2016/4 vs. 2016/3
Year-on-year (YoY) = Source: JNLR/Ipsos MRBI 2016/4 vs. 2015/4