Press Releases
Ireland's Rising, a new four-part series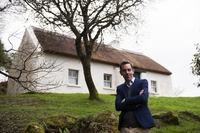 Ireland's Rising, a new four-part series starting this Sunday 29 November, will feature four household names returning to their ancestral county to explore its connections with 1916. The series, which marks the start of RTÉ One's 1916 programming, sees Anne Doyle, Ryan Tubridy, Jim McGuinness and Fiona Shaw travel to Wexford, Galway, Donegal and Cork respectively to learn about their county's circumstances in 1916 and to discover how each county is planning to commemorate the centenary.

The four will find out what was going on during that fateful week in April, how their own family lived at the time and will meet with people who are commemorating the nation's turning point in diverse and creative ways. Their assumptions will be challenged as they find out how the events of Easter week weren't just limited to Dublin and the GPO, hopefully prompting every county in the country to reflect on their own connections with 1916.

In episode one Anne Doyle visited her home county of Wexford, where one of the most significant Risings outside of Dublin took place in Enniscorthy. Anne visits the farm where her grandfather worked and finds out more about the daily life of a farm labourer. She meets with local school children who are researching their ancestry as part of a short film that is being produced to commemorate 1916. She also meets with their elderly relatives in the 1916 museum and finds out about the research they are doing into their great grandparents or great great grandparents who rose during the Enniscorthy Rising.

In Galway Ryan finds out that his great grandmother, schoolteacher Jane Tubridy, was in regular contact with Roger Casement who had set up a fund for the school children in Carraroe, Connemara, who were extremely impoverished 100 years ago. Ryan also meets the families of some of the almost 800 Volunteers who turned out in Galway on Easter week 1916 and held the largest land mass in the country.
In Donegal Jim McGuinness discovers that his family's connections with Scotland stretch right back to 1916. He also discovers how a native Irish speaking member of the RIC was one of the first casualties of the Rising in the entire country (Constable Charles McGee) and how the majority of young men in Donegal were fighting in the Somme in April 1916. Jim also discovers that two unsuspecting Donegal fishermen from Gola Island were on board the Asgard in the Howth gunrunning in 1914 when the majority of arms used in the Easter Rising were obtained.
In Cork Fiona Shaw returns to her old school, Scoil Mhuire, to work with the students there on reimagining the Proclamation based on the principles of the original one drawn up by the Irish Volunteers. She also learns about the terrible predicament faced by Cork leaders Tomas McCurtain and Terence MacSwiney who decided to obey Eoin MacNeill's countermand order and thus faced guilt and ridicule for Cork's failure to rise in 1916. Their activity in the War of Independence was seen as atonement for the mistakes of 1916.
Ireland's Rising, which will begin on RTÉ One at 8.30pm on Sunday 29 November and run over four successive Sundays, will also be available to watch on the RTÉ Player.
Ireland's Rising is part of RTÉ 1916, made possible by Ireland 2016.