Press Releases
RTÉ's Irish Language Action Plan Launched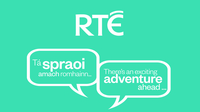 RTÉ Director-General, Noel Curran launches RTÉ's Irish Language Action Plan with Guest of Honour An Taoiseach Enda Kenny
Dual-language All-Ireland commentary and bilingual bulletins on RTÉ 2fm among 93 new action-points in wide-ranging plan
RTÉ Director-General Noel Curran today launched Meáin Ghaeilge RTÉ, Action Plan 2015-2019, the broadcaster's new strategic action plan for the Irish language. Speaking alongside An Taoiseach Enda Kenny, the Director-General said the ambitious plan would seek to re-cast the role of the language across all RTÉ services.
The plan, which addresses a range of policy recommendations for Irish-language output across all of RTÉ's platforms and services, is published in response to the wide-ranging 2013 report compiled by a special working group.
Speaking today, Noel Curran, Director-General RTÉ, said: "One of the key recommendations of the working group was that RTÉ needed to appoint a Group Head, Irish Language. In appointing Rónán Mac Con Iomaire, we signalled our intent that the Irish language not simply be viewed in terms of an obligation, but rather that it be seen as an opportunity, to better define what it is that makes RTÉ unique, to better reflect life in Ireland, to understand our linguistic heritage, our culture, and indeed our individual character as a people and a society in an increasingly homogenised world. And so with this plan we pledge to bring the Irish language to the centre of what we do, to normalise it within programming and events, and extend its reach across digital and social media."
Welcoming the publication of RTÉ's Irish Language Action Plan and Language Scheme, An Taoiseach said: "These developments are an integral part of the implementation of the 20-Year Strategy for the Irish Language 2010-2030 which is the cornerstone of Government policy in this area. As the national public service broadcaster, it is important that RTÉ normalises the use of Irish across its platforms and gives a greater focus to its commitment to the Irish language."
Informed by a public consultation and 120 independent submissions, Rónán Mac Con Iomaire, Group Head Irish Language at RTÉ, today outlined how RTÉ will implement the wide-ranging recommendations. Meáin Ghaeilge RTÉ, Action Plan 2015-2019, will sit alongside the Language Scheme for RTÉ 2015-2018, as per the Official Languages Act 2003, and will form the core of RTÉ's enhanced Irish-language strategy.
Announcing a range of initiatives, RTÉ confirmed that viewers will, for the first time, be able to choose to hear this year's All-Ireland television commentaries in Irish. Other commitments in the Action Plan include:
Bi-lingual bulletins on 2fm
A new youth-orientated Irish-language radio service
Innovative content for language learners
Centre of excellence in Irish-language media training
Increased use of Irish in television promos, continuity and weather bulletins
Next version of the RTÉ Player to include Irish-language option for the navigational user interface
Advertisers and advertising agencies will be incentivised and supported to provide advertising in Irish on television, radio and digital
Said Rónán Mac Con Iomaire, Group Head Irish Language, RTÉ: "This plan seeks to integrate the Irish language into everything we do in RTÉ. In the coming years we will explore the creation of a new youth-orientated Irish-language radio service, and this coming September will see the piloting of an option to choose Irish- or English-language television commentary on the All-Ireland final matches. We're looking to increase the amount of Irish on RTÉ's television and radio services and, through partnerships, provide more educational output, as well as building Irish-language capacity across RTÉ."
As with the recent successful launches of RTÉjr and GAAGO, RTÉ will implement the Action Plan through new partnerships and from within existing resources.
ENDS
Tuesday September 1st 2015
MORE:
Joseph Hoban, Vivienne Flood
NOTES:
Watch the Action Plan explanatory video, click here.

All-Ireland Commentary Options User Guide
Saorview: Irish-language commentary options will be available for the All-Ireland Hurling and Football Finals by selecting "Language – Irish – OK".
Sky: The service will also be available on Sky SD and HD set-top boxes. To access, users must switch off Audio Description (AD).
For all set top boxes, users should press Help on the remote control and switch Audio Description OFF.
For Sky SD set top boxes, on the remote press Services – System Setup –Language & Subtitles – Favourite Language (Select Irish) – Save New Settings.
On the Sky HD set top box, users should press Services – Options – Accessibility - Favourite Language (select Irish) – Save Settings.
UPC: The Irish-language commentary service will not be carried on the UPC network at this time.