Press Releases
Derek Mooney Appointed Nature & Wildlife Executive, RTÉ Radio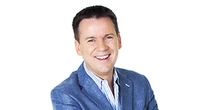 04 December: RTÉ Radio 1 has announced that presenter Derek Mooney is to take up a new role as Executive Producer across nature and wildlife programming. Derek will also be responsible for new programming initiatives in the strand.
To make way for his new role, Derek will no longer present his daily afternoon show on RTÉ Radio 1 from early January 2015. Mooney Goes Wild on RTÉ Radio 1 will now air at weekends, and Derek will also produce a new nature strand on RTÉ Radio 1 which will air in autumn 2015. Working with colleagues in television, Mooney Goes Wild will provide nature features for television output and Derek will also be associated other nature programming on television in 2015. On the digital platform, Derek will also be exploring opportunities for new content and adaptation of formats like the hugely successful 'Nest Watch' campaign.
Derek has led the development of wildlife radio broadcasting in RTÉ for over twenty years. His achievements in the natural history field include Habitats, The Nature Line, Nature Trails and Mooney Goes Wild On 1, all for RTÉ Radio 1, as well as Wildtracks on RTÉ One and the multi award winning Secrets of the Irish Landscape and Nature Detectives for the BBC.
Originally from Dublin, Derek has had an interest in broadcasting from an early age and first appeared on RTÉ in 1985 on a television debate called Anything Goes. He is now established as one of Ireland's best-known broadcasters, presenting Mooney, the popular afternoon radio programme on RTÉ Radio 1. In addition to becoming well recognised in the public eye for his nature programmes on RTÉ and BBC, his television work has included Winning Streak, The Big Money Game Show, Who Knows Ireland Best, No Frontiers, Echo Island and the reality TV show Fame:The Musical.
Derek will also continue to put his love and knowledge of music to work with his continued involvement with Mooney Tunes and a range of music documentaries of varied repertoire.
Head of RTÉ Radio 1, Tom McGuire said: "For almost a decade, Derek Mooney has combined his undoubted talent for nature broadcasting with a passion for light entertainment in his weekly show on RTÉ Radio 1. Derek's move to programming on the natural world is the perfect evolution for one of our foremost nature broadcasters. Derek's new focus across all RTÉ output areas is a very important development for nature broadcasting in RTÉ."
Reacting to his new appointment Derek Mooney said: "There's a wonderful world of nature out there.. it's time to explore it and no better place to do it than on radio but we won't stop there. We will use every bit of technology and social media available to bring the natural world to our audience, wherever and however they choose to listen or watch. I'm also thrilled to be working with our partners in the EBU, particularly on projects like Nest Watch and the Dawn Chorus. Birds don't recognise borders, nor should we, I can't wait to get started."
Mooney on RTÉ Radio 1 will air until January 9th 2015. RTÉ will announce a new programme in due course. Derek Mooney will be taking up the post in February 2015.