Press Releases
RTÉ appoints Rónán Mac Con Iomaire as RTÉ Group Head Irish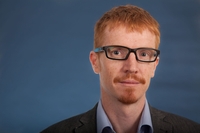 12 September 2014: Following on from a public competition Rónán Mac Con Iomaire has been appointed as RTÉ Group Head Irish Language.
In early 2014, having consulted widely, RTÉ published its Report of the Irish Language Working Group, detailing policy recommendations to enhance Irish-language programming and output across all of RTÉ's platforms and services.
Reporting to the Managing Director of RTÉ Radio, the Group Head Irish Language will lead the implementation of the recommendations contained in the recently published report. This cross-media role will collaborate with key senior editorial management in radio, television, RTÉ News and Current Affairs and digital to maximise the impact and quality of RTÉ's Irish-language output and to develop RTÉ's overall Irish-language capabilities. The Group Head Irish Language will also play a lead role in assisting RTÉ to continue to foster relations with communities, organisations, state agencies and others with a shared vision for developing or delivering services in Irish.
"It's both an honour and a privilege to be appointed RTÉ's first ever Group Head, Irish Language," said Rónán. "This is a unique opportunity to develop RTÉ's role in relation to the Irish language and I'm very much looking forward to it."
RTÉ Director-General, Noel Curran said: "The provision of programming and services in the Irish language is central to RTÉ's public purpose and remit. Rónán has a real passion for Irish culture, extensive editorial and production experience and is ideally placed to lead the development of Irish language services across RTÉ."