Press Releases
RTÉ wins six awards at Justice Media Awards 2014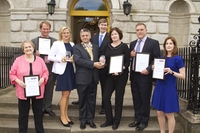 13 June: RTÉ has won six awards at the Law Society of Ireland's Justice Media Awards 2014 in the categories of Court Reporting for Broadcast; Television Features and Documentaries; National Radio; and Television News.
The prestigious awards ceremony took place yesterday (Thursday 12th June) at the Law Society's headquarters in Blackhall Place.
RTÉ's Washington Correspondent Caitriona Perry was announced as the winner of the Justice Media Award in the 'Court Reporting for Broadcast Media' category for her television news report 'Tragedy Down Under' on the Jill Meagher murder trial. The judges commented that "this report was filed by the only Irish journalist to travel to Australia to report on the sentencing hearing of Jill Meagher's killer, Adrian Bayley. Caitriona Perry skilfully combined the heartbreaking human aspects of the story with an excellent and clear analysis of the legal issues involved."
The Television Features and Documentaries Justice Media Award was won by reporter Rita O'Reilly and producer Tara Peterman for their Prime Time report 'Freemen: A matter of Trust'. The report examined a scheme promising debt-laden borrowers that they could save their properties by suing their bank, joining a trust, stopping repayments and waiting for 'a big test case' in the courts. The judges praised the "well-presented, comprehensive and truly engaging report" and noted that it "challenged those behind the scheme on the use of the language and tactics of the 'Freemen on the Land' movement".
Reporter Rita O'Reilly and producer Kevin Burns were awarded a certificate of merit in the Television Features and Documentaries category for their Prime Time reports on the Garda whistleblowers controversy.
A certificate of merit in the Court Reporting for Broadcast Media category was awarded to Drivetime's Fergal Keane for his series of radio reports 'Local Justice' on the day-to-day workings of the District Courts in Tipperary Town, Clifden, and Kilmallock.
RTÉ News reporter Sandra Hurley was awarded a merit certificate in the Television News category for her Six One News report 'Surrogacy: a legal limbo' which followed a landmark High Court decision in the surrogacy area.
A certificate of merit in the National Radio category was awarded to Today with Sean O'Rourke's reporter Valerie Cox for her report on the Family Courts after the lifting of the ban on journalists attending and reporting on family law cases.